Mobile App producer FOXBOT Productions has recently released a new free surf application for the iPhone called: Daily Froth.
We scour the internet to find the best the web has to offer in surf clips and bring them straight to your phone. You know have a traveling surf video collection! New videos selected and posted daily. Other features include a news section which has up to date information from press releases throughout the surf industry. Also, never go without a stick of wax again! Daily Froth includes a Surf Shop Locator where you can find the closest 20 shops from wherever you currently are at.
Also, we are always looking for new videos to feature within the app. Fee free to send us video submissions through the in-app email.
To download the app click here: http://bit.ly/DailyFroth
More info at: http://www.foxbotproductions.com/dailyfroth.html"
Thanks! Any questions, feel free to ask.
Adam Botma
FOXBOT Productions
Follow us on Twitter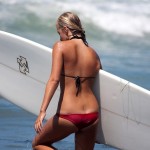 Become A Sponsor!
If you have a product or service that is a good fit for our surf community, we have opportunities for you to sponsor this blog!
Download our media kit now!