Less than two weeks after winning the Pacifico Paddle Award at the Billabong XXL Big Wave Awards ceremony, Guinness has officially certified Shawn Dollar's 61-foot wave at the Cortes Bank off California as a new World Record.
The announcement on the Guinness World Record website can be viewed using the following link:
http://www.guinnessworldrecords.com/news/2013/5/confirmed-shawn-dollar-sets-new-biggest-wave-surfed-world-record-watch-incredible-ride-here-48666/
The 32-year-old Santa Cruz resident caught the superlative wave on December 21 during a terrifying session at the Cortes Bank, a notorious offshore hazard to shipping located over 100 miles west of San Diego in international waters.
Dollar won a total of $30,000 in capturing both the Pacifico Paddle and the XXL Biggest Wave divisions at the 13th Annual Billabong XXL Global Big Wave Awards held on May 3 at the Grove Theater in Anaheim.  A panel of experts measured the wave at 61 feet on the face. Dollar caught the wave using only human paddle power, yet it turned out to be bigger than any waves caught by any means in the last year — including those caught with the use of jet ski assists.
This is not Dollar's first visit to the Guinness Records pages.  In 2010 he rode a wave at Maverick's off Half Moon Bay, which was measured at 55 feet and surpassed the previous best set by Taylor Knox in Mexico in 1998.  Dollar's first tenure as a record holder was short-lived, however, when Hawaiian surfer Shane Dorian bettered the mark with a 57-footer at Jaws, Maui the following year.
"Is this really happening?" asked Dollar rhetorically after his XXL victory.  "Are we really paddling into waves bigger than what we used to tow?  It's surreal, it's such an honor."
How big did that wave seem to him as he experienced it, alone, 100 miles from shore?
"It's hard to put numbers on those things, but it was the biggest wave I've ever seen in my life," Dollar said.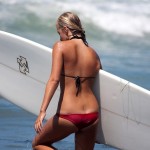 Become A Sponsor!
If you have a product or service that is a good fit for our surf community, we have opportunities for you to sponsor this blog!
Download our media kit now!