Great article! More of a guide really…
VIA – SUP CONNECT


Stand Up Paddle on the Central Coast of California
Tuesday, 09 August 2011 00:00
written by Matt Hudgens
Whether you want to meander on a glassy bay with bat rays gliding beneath or charge through 8-foot waves that foam and spit, the Central Coast of California can provide both and everything in between.
MORRO BAY, California – On California's central coast, in San Luis Obispo County, there is nearly always something worth SUPing. In addition to a mild climate, the central coast has a body of water to suit every SUPer. Miles of sandy beach break, lots of protected coves to explore, several lakes and even some rivers beckon freshwater aficionados. At the heart of it all is Morro Bay, a large protected body of water big enough for 10+ mile loops. One thing the entire region shares is a distinct lack of crowds and easy access to many places.
1. Seasons
Outside of the periodic big winter storm, the climate and conditions are mild year-round, which means we're on the water year-round! From clean, long-period NW swells coupled with amazing weather in the fall, to windswept spring days when all the down-wind boards come out, the central coast has something to offer everyone.
For the rest of the article and photos go here
http://supconnect.mylocallineup.com/SUP-Destinations/stand-up-paddle-on-the-central-coast-of-california.html?utm_source=feedburner&utm_medium=feed&utm_campaign=Feed%3A+supconnect+%28Stand+Up+Paddle+News+-+Supconnect.com%29&utm_content=FeedBurner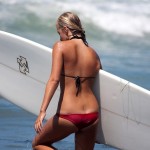 Become A Sponsor!
If you have a product or service that is a good fit for our surf community, we have opportunities for you to sponsor this blog!
Download our media kit now!