Words by Chris Nomad
4 May 2013
It was an epic big wave year and the field of nominees in all categories were second to none. When one thinks of big wave surfing just a mere 10 years ago, the level of waves surfed today is unparalleled in the history of the sport.
Let's do a surf check and see some of the incredible rides that were chosen this year…this is going to be fun!
First up is the Hawaiian big wave king Shane Dorian who takes down the whole shebang with 2013 Ride of the Year and 50 g's! And wins the Pacifico Tube Ride of the Year! Shane has been killing the big wave seen for what seems like forever and he never disappoints, watch the spit at the end!:
Some people feel Shawn Dollar should have been given the Ride of the Year Award, maybe surf politics were involved, maybe they weren't but for now, congratulations to Shane!
Seriously, I don't know how the judges could pick a single winner! Sick! But up next, was the real Hawaiian hopeful for the year. Many expected this might be the winner, including Jamie O'Brien. Take a look for yourself and watch the foamball rolling up from behind on Makua…heeew!
Watch this unbelievable tow from Antonio Silva at Nazaré in Portugal, these waves look like tidal waves from when the world ended…
Portugal was cranking this year and judging from all the rides nominated it's going to be a top destination for big wave warriors for years to come. This ride was particularly impressive due to the short board style Axi Munion takes apart this ride, tell me anyone thought turns like these could be performed just a few years ago:
But no big wave season would be truly complete without a visit to Coudbreak in Fiji. This wave is by far one of the most dangerous and entertaining venues for surfers to ogle and very few people ride it better than Ian Walsh and Ramon Navarro:
One of the nicest big wave surfers in the world is Greg Long. The guy is so humble and a pleasure to watch as he lives a life most of us only dream of. Here he is taking on one of the biggest speed barrels of all time (how the f does this guy stay on his board??), Greg Long wins the 2013 Surfline Men's Performance Award:
When we think of big waves we rarely thing of the ladies but this year the woman showed just how skilled they are and where they are taking the sport as well. Now, I personally think Kealla is the fiercest hell-woman on the earth but one has to give props to Anastasia for her entry as well. Many people joke that she's all bikinis and bodies but I think she shut some naysayers down with this entry:
Just to wrap that last video up, Paige looked like an all seasoned pro from way back with that Hawaiian Bomb. Mad respect to the ladies!
Keala was the well-deserved winner of Women's Performance Award but all the girls are winners in my book! Keep up the good work and setting such a fine example to women everywhere!
Here's all the 'Ride of the Year' nominees together:
As we get down to the last videos, let's watch the one most people enjoy more than all others…the wipeouts!!! For some reason this kind of surf news gets more action then any others (and this is why I am totally happy surfing smaller waves!):
Congratulations to all the winners and all the nominees!

Shawn Dollar – Cortez Bank, CA – Photo by FrankQuirarte
Finally, lets watch Shawn Dollar's winning ride and celebrate all of his hard work and dedication to the sport of kings and take pride as one of Santa Cruz' own takes down such a prestigious award!:
Can't wait for 2014!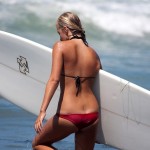 Become A Sponsor!
If you have a product or service that is a good fit for our surf community, we have opportunities for you to sponsor this blog!
Download our media kit now!