VIA – 10 NEWS
Friends rally to replace the boards
ENCINITAS, Calif. – Randy Abbott uses special surfboards with foam fins on top to keep his legs onboard. It's the same concept he uses to teach kids with physical challenges to surf, as he did last weekend at Cardiff as part of an event called Rolling Through Life with a Smile.
"They're smiling, they're having a blast!" said Abbott. "Rob Machado came down and surfed with them on Sunday."
He has a nonprofit called, "The View from 42," meaning the height of his eyes as he sits in a wheelchair.
On Monday night, he surprised two men who were cutting his boards loose from the rack on his car outside his training center in Oceanside.
"I was right there in my wheelchair," said Abbott. "I said, 'Hey, I'm paralyzed. Don't steal my surfboards!' And then they came and attacked me."
Abbott displayed fresh scabs on his knee and elbow from when he was thrown to the pavement. Word of the attack and theft quickly hit the Internet. Messages were posted on Instagram and Facebook. There was immediate outrage and kindness.
Machado, a retired professional surfer with a huge following, tweeted about it.
There was heavy damage to the two boards that have been recovered, though one board remains missing.
An old Marine buddy came by, bearing gifts. Christopher Tomlin told 10News, "When I heard what happened to him this morning, the first thing I thought was, 'What can I do to make this right?' I have over 30 boards in my house and I asked which ones he wanted. He told me and I brought them down for him. With everything he does for people, we need to get him back out on the water."
He brought over three boards, while next door, two new ones were already being shaped.
Abbott was surprised at the outpouring.
"There's literally been 500 text messages from people I don't even know saying, 'Don't worry about your surfboards. We're going to get you new ones,'" he said.
He lost the use of his legs a few years ago after back surgery went terribly wrong.
"They told me I'd never surf again … but I am," said Abbott.
He surfs and teaches kids who otherwise could not. The broken boards were just a minor setback.
For the full story and video go here:
http://www.10news.com/news/custom-surfboards-stolen-from-paralyzed-surfer-who-teaches-kids-with-disablities-to-surf-07222014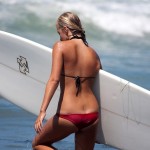 Become A Sponsor!
If you have a product or service that is a good fit for our surf community, we have opportunities for you to sponsor this blog!
Download our media kit now!