Watch incredible footage of shark attack on Australian surf champion Mick Fanning on live TV
Soon after, twitter was abuzz as hundreds of fans were elated showing their support by making Mick a trending topic.
Shark at #JBayOpen. Thankfully, Mick Fanning is unharmed. https://t.co/Y20L1PpTMD

— #JBayOpen (@wsl) July 19, 2015
Unbelievable scenes at the #JBayOpen as @Mick_Fanning gets some unwanted attention. pic.twitter.com/Dd5HWxg1ZY

— Wavelength Surf Mag (@wavelengthmag) July 19, 2015
@btoddrichards @Mick_Fanning FROM NOW ON ITS GONNA BE CALLED MICK WEEK!

— Sal Masekela (@SalMasekela) July 19, 2015
Note to self, never fight an Australian. Here's Mike Fanning just batting away a shark in the middle of competition http://t.co/Hx5sH7gns0

— Ross Maghielse (@Maghielse) July 19, 2015
Cannot believe it. Just 3 days ago I told @mick_fanning about my #shark attack and told him he need… https://t.co/ZDTLHWNb4j

— Shannon Ainslie (@ShannonAinslie) July 19, 2015
Truly one of the heaviest things I have ever seen. So glad everyone is okay. @Mick_Fanning @julian_wilson thinking of you both. 🙏🏼

— Lakey Peterson (@LakeyPeterson) July 19, 2015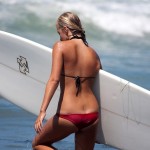 Become A Sponsor!
If you have a product or service that is a good fit for our surf community, we have opportunities for you to sponsor this blog!
Download our media kit now!