VIA – ORLANDO SENTINEL
Two men suffered shark bites in New Smyrna Beach on Saturday as purple flags warned beachgoers about dangerous marine life and swarming bait fish.
The bites happened within a minute and less than 100 yards apart, said Volusia County Beach Safety Ocean Rescue spokeswoman, Capt. Tammy Marris.
Although the bait fish themselves are not a threat to swimmers, the abundance of food draws in large predators who eat them.
The first victim was a 25-year-old Oviedo man. He was swimming in waist-deep water just before 4 p.m. when he was bitten on his shin.
About one minute later, a 43-year-old New Smyrna Beach man who was surfing about 100 yards away was bitten as well. His bite was on his foot, Marris said.
While there is no way to know for sure, Marris said, the same shark likely attacked both men.
Less than a week ago, a 17-year-old Daytona Beach boy was bitten on the shoulder in Ormond Beach. With the two new reports, Volusia County, known as the shark-bite capital of the world, is up to six reported incidents this year.
Last year, eight bites were reported at Volusia beaches.
In Saturday's cases, both men suffered only minor injuries and were treated at the beach. Neither needed to be rushed to a hospital.
The purple flags will likely continue to fly today if the bait fish have not moved on, Marris said.
Anyone willing to brave the threat of sharks will see beautiful skies along the coast Sunday morning. The high will be near 87 with a low of 75.
Chances of rain are slim — only about 20 percent. Head to the beach early if you want clear skies. The worst weather isn't expected until after 1 p.m.
This evening should be cloudy but dry. But going for a quick nighttime dip is not a good idea.
Sharks are naturally more active at night, and with an abundance of bait fish swimming nearby, it increases the chances that you may be mistaken for food.
[email protected] or 407-420-5447
Original source here:
http://www.orlandosentinel.com/news/local/breakingnews/os-shark-bites-new-smyrna-beach-20130907,0,7822856.story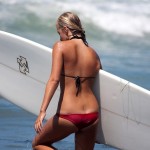 Become A Sponsor!
If you have a product or service that is a good fit for our surf community, we have opportunities for you to sponsor this blog!
Download our media kit now!