http://youtu.be/NmWznydTxT4
http://youtu.be/xM4N5HRBSMA
VIA – CNN
Woman 'taken' by large shark in Australia
By Brian Walker, CNN
updated 9:05 AM EDT, Thu April 3, 2014
(CNN) — A 63-year-old woman is presumed to have been "taken" by a large shark while swimming off the coast of Australia Thursday, police told CNN.
Christine Armstrong was swimming with a group of friends off a beach in Tathra in New South Wales when she complained and headed back to shore, Police Inspector Jason Edmunds said.
The rest of the group, including her husband, later saw a shark, estimated to be about 11 feet long, swimming near them, causing them to bunch together for safety.
They swam back to the beach club, but found no trace that Armstrong made it back.
Edmunds said that another witness on some nearby rocks spotted a large shark attacking something in the water roughly 150 yards offshore, which he believed to be a swimmer.
The popular beach is now closed for a safety assessment, but an extensive search of the area failed to find Armstrong or signs of the shark.
"The community is in shock, and the husband is taking it hard, as he has been with her since they were kids," said Edmunds, noting that sightings of large sharks are rare, and he couldn't remember any other attack in the area.
"Cancer, heart attacks — those are all things we fear but expect, but who gets taken by a shark?"
It is believed the woman was a lifeguard herself, according to a post on the Surf Life Saving New South Wales website. The other lifeguards she was swimming with are receiving counseling, the post said.
For the video and original post go here:
http://www.cnn.com/2014/04/03/world/australia-woman-taken-by-shark/
VIA – SMH
Shark attack tragedy at Tathra was foreseen
April 3, 2014 – 3:18PM
Reporter at The Canberra Times
The woman missing after a presumed shark attack on the NSW South Coast was a member of a group that raised concerns two years ago about illegal shark fishing at Tathra Wharf.
Tathra Surf Life Saving Club's then-surf boat captain Sharon Clarke warned two years ago that shark fishing off the local wharf was attracting sharks to the area.
In March 2012, Ms Clarke told the Bega District News she had seen a black balloon floating close to the beach with bait attached to lure in sharks.
Her words now appear tragically portentous, after a woman was attacked by a shark at about 8.20am on Thursday morning while she was swimming between Tathra Wharf and Tathra Beach with a local group.
There had been a long debate about shark fishing at the Tathra Wharf, with Ms Clarke stating in her 2012 interview she no longer swam in the area.
She said her regular group of swimmers were also beginning to get concerned about the number of sharks being lured to the area.
"There are some keen ones who go every morning no matter what, but I haven't swum myself this year after reports of shark fishing at Tathra Wharf," she said at the time.
"And there are plenty of others who are hesitant now, knowing it's going on. It also doesn't make a lifesaver's job easy either."
In March 2012, Bega Valley Shire Council senior ranger Peter Miles said he had received calls about shark fishing and that further inquiries were being made. Mr Miles said on Thursday he had been advised not to comment on anything relating to the shark attack.
At 6.30pm on Thursday there was still no word on what kind of shark was responsible for the woman's death.
Southern Cross University shark expert Daniel Bucher said bronze whaler sharks were commonly sighted on the south coast although they were usually responsible for single bite attacks.
"Bronze whalers do come in close to the shore in calmer water conditions looking for fish, particularly behind the breaking line of the surf," he said.
Mr Bucher said it would extremely uncommon for a great white shark to come so close to shore.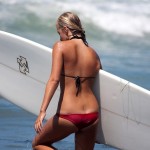 Become A Sponsor!
If you have a product or service that is a good fit for our surf community, we have opportunities for you to sponsor this blog!
Download our media kit now!