VIA – OC REG
Huntington Beach surfer starts movement in response to drug-related deaths of young people.
Published: Aug. 20, 2013 Updated: Aug. 22, 2013 9:26 a.m.
Huntington Beach surfer John Salanoa has started a movement called DFS to encourage drug-free surfing, after seeing the heroin epidemic take over in the surfing community.
Melody Lord tried to look back at the photos of her son, Chris Love, to find out exactly when drugs consumed him.
When was it that his innocent smile faded? How did the healthy, young surfer end up going down that road? Where did it go wrong?
How DFS works
Sponsored surfers must go through a vetting process with three people, such as a team manager or company head, who will vouch for their clean lifestyle. If there's a past history of drug use or if there's any suspected drug use, they must undergo drug testing and submit three clean results in a six-month period.
"This goes for anyone – if Kelly Slater wants to come aboard, he'll have to go through this vetting process. It's pretty intense," founder John Salanoa said.
More information: dfsmovement.org
"I don't understand the whole drug culture; I didn't even know what to look for," Lord said on a recent day, wiping tears as they streamed down her face.
Her son – known for his passion …
Click Here to login and see more!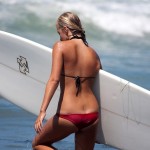 Become A Sponsor!
If you have a product or service that is a good fit for our surf community, we have opportunities for you to sponsor this blog!
Download our media kit now!