VIA – NY DAILY NEWS
Stunning sunrise images capture moment massive shark leaps from the waters off the coast of South Africa. Photograph used seal decoy to lure animal.
CATERS NEWS
Monday, September 23, 2013, 8:27 AM
A great white shark bursts from the water near Seal Island, False Bay, South Africa.
These JAW-DROPPING series of photographs show the majestic power of a great white shark in a WHOLE NEW LIGHT.
Beautifully silhouetted against a rising sun, the sequence shows the predator in an airborne attack at Seal Island, False Bay, South Africa.
Irish photographer David Jenkins used a carpeted seal decoy to lure in the great white.
Using a carpeted seal decoy, Irish photographer David Jenkins, 41, positioned himself in front of the golden sunrise, ready for the dramatic moment to unfold.
Taken on July 5th, 2010, while on a shark viewing tour with world famous tour group, Apex Expeditions, the spectacular images show the great white bursting out of the water as it catches the decoy in its jaws before falling back into the ocean.
The incredible sunrise photos were taken during a trip with Apex Expeditions.
David said "Myself and another photographer decided to tow the decoy in a specific direction in hope of getting this shot but neither of us could believe it when it happened.
"The boat held a straight line going away from the nearby seal colony that the sharks come to hunt and the current took the decoy to the left and the right, but just as it lined up straight behind the boat a Great White exploded from the water

Jenkins then positioned himself in front of the golden sunrise and waited for the shark to emerge.
"We were in shock at what we saw, even though we knew there was a good chance a shark might breach, when it happened it was incredible.
"The photos were taken at sunrise, just as the sun was coming up over the mountains that surround the bay and I knew straight away that we had captured some really spectacular shots showing the Great white shark in all its glory.
Read more: http://www.nydailynews.com/news/world/great-white-shark-dazzles-stunning-sunrise-photo-captured-african-coast-article-1.1464584#ixzz2g4yhsJ3d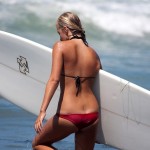 Become A Sponsor!
If you have a product or service that is a good fit for our surf community, we have opportunities for you to sponsor this blog!
Download our media kit now!