VIA – HAWAII NEWS NOW
Posted: Dec 02, 2013 1:05 PM PST Updated: Dec 02, 2013 4:22 PM PST
MAKENA, MAUI (HawaiiNewsNow) -A kayak fisherman was attacked and killed by a shark in waters off of Maui on Monday morning.This is the second fatal shark attack off of South Maui in less than four months.
The following is a statement from Maui County:
"A kayaker is reported to have died of his injuries this morning after having been bitten by a shark in waters off of Makena."
"Maui County Ocean Safety officers received a report around 10:20 a.m. that said the male victim was fishing in his kayak somewhere between Maui and Molokini when he was bitten by a shark. A friend who was kayaking with the victim took him to a nearby snorkeling charter boat, which then transported them to shore."
"The victim died prior to reaching shore. Although the incident took place some distance from shore, county lifeguards and officials from the State Department of Land and Natural Resources (DLNR) have closed beaches from Makena Landing to the surf area known as "dumps" until noon tomorrow (Tuesday)."
Witnesses tell Hawaii News Now that the victim possibly a tourist was dangling his feet off a kayak near Little Beach when the shark reportedly bit off one, possibly both of his feet.
Just three days ago (Nov. 29) a woman sustained non-fatal injuries after she was attacked by shark near Keawekapu Beach, just miles away from today's attack near Little Beach.
On August 14, 2013, a 20-year-old German tourist was killed when her arm was severed in a shark attack at Palauea Beach, which is also in Makena.
We will bring you more information on this developing story as soon as it becomes available.
Original Source here:
http://www.hawaiinewsnow.com/story/24114775/shark-attack-reported-at-little-beach-on-maui-details-at-hawaiinewsnowcom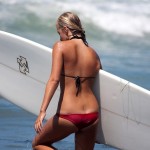 Become A Sponsor!
If you have a product or service that is a good fit for our surf community, we have opportunities for you to sponsor this blog!
Download our media kit now!