VIA – IOL NEWS
October 11 2013 at 01:37pm
effreys Bay – A man has died after a shark attack at Jeffreys Bay in the Eastern Cape, the National Sea Rescue Institute said on Friday.
According to the NSRI website, at approximately 11.30am the NSRI Jeffreys Bay rescue crew was activated following reports of a shark incident at Lower Point, next to Albatros Beach.
"
On arrival on-scene remains of a body, believed to be those of an adult male, have been recovered from the water and handed into the care of the police and the Forensic Pathology Services," the NSRI said.
According to eyewitness reports, the unidentified man had been snorkelling at the time of the incident.
Police are investigating. – IOL
Original source here:
http://www.iol.co.za/news/south-africa/eastern-cape/man-killed-in-j-bay-shark-attack-nsri-1.1590702#.UlhZTBB75aA
Update…
VIA –  NEWS 24
Onlookers and rescue staff look on as the remains of a man killed by a shark attack are recovered at Albatros Beach, Jeffreys Bay. (Jordan Zeelie, Twitter)
Kayaker 'tried to chase off J-Bay shark'
2013-10-11 14:58
ape Town – A kayaker is believed to have used his paddle to try and chase off a shark after it attacked a snorkeler at Jeffreys Bay on Friday.
According to surfing website Wavescape, a witness to the attack said the victim was swimming close to the rocks when a large shark attacked him and pulled him out into deeper water.
A sea kayaker apparently saw the victim lying with his head down in the water. He tried to retrieve the body but the shark came back and would not let go of the victim, despite him trying to hit it with his paddle.
Other witnesses said the shark was so large it was mistaken for two sharks.
The NSRI confirmed on Friday that its duty crew was activated at about 11:30 on Friday morning after receiving reports of a shark attack. Two sea rescue craft were launched.
The remains of a body were recovered from the water.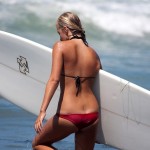 Become A Sponsor!
If you have a product or service that is a good fit for our surf community, we have opportunities for you to sponsor this blog!
Download our media kit now!