VIA – CURRIER MAIL
Greg Stolz
The Courier-Mail
February 09, 2014 11:53AM
Mark Morlock was stabbed in the eye after an altercation in the surf at Snapper Rocks. Pic: Luke Marsden. Source: News Limited
A MAN faces losing an eye after a surfboard was deliberately speared into his face in a horrific surf rage attack on the Gold Coast.
The victim, Mark Morlock, said it was the 'most brutal and cowardly thing I've seen' and 'pure evil'.
Doctors will tomorrow determine if his right eye can be saved.
Mr Morlock, 41, a professional abalone diver and ship's captain, was surfing popular Gold Coast break Snapper Rocks on Tuesday when the incident happened.
He said a fellow surfer who he unwittingly cut off on a wave at the same break about five months ago confronted him.
"I heard a voice behind me go 'hey you' and I've turned around and he goes 'you remember me?'," Mr Morlock said.
"I said 'yeah I remember you, what do you want?'. Then he let his board go from between his legs, straight into my face. He said 'you're not laughing now, are you mate?'
"Within six seconds of him announcing his presence, he'd done this horrible trick that only a surfer knows but one I thought would never happen to me. It was the most brutal, cowardly thing I've ever seen."
In agony and shock and unable to see, Mr Morlock made it to shore where he was given first-aid by a lifeguard.
Even as he was waiting to be taken to hospital, his attacker wanted to fight him.
"He was hiding in some bushes and came bolting down the stairs wanting to carry it on, with my eye almost hanging out of my head," he said.
"I said 'are you out of your mind? I can't even see you to fight you'," Mr Morlock said.
He was taken to Tweed Heads Hospital and later transferred to Gold Coast University Hospital where he underwent about 12 hours of microsurgery in a bid to save his eye.
"The doctors told me that if he wasn't riding a snub-nosed board, it could have been fatal," he said.
Mr Morlock will find out tomorrow if he loses his sight in the damaged eye.
"It may cost me my livelihood," he said.
He has not spoken to police but a horrified witness is believed to have reported the incident.
"It's one of the heaviest things I've seen," one witness told the Sunday Mail.
Snapper Rocks, home of the Quiksilver Pro world surfing championship contest, is one of the world's most crowded surf breaks and surf rage is rife.
But clashes between surfers usually involve heated exchanges or fisticuffs, with surfboards rarely used as weapons.
"What kind of person carries a grudge like that for five months and then does something as horrible as this to another human being?" Mr Morlock said.
"It's pure evil."
Surfers said the attacker was a notorious troublemaker and needed to be stopped before someone was killed.
"The guy's an aggro serial offender," one local said.
"There are women and kids who surf out there who don't need to be exposed to this sort of danger."
For the original source go here:
http://m.couriermail.com.au/news/queensland/man-speared-by-board-in-surfrage-attack/story-fnihsrf2-1226821698140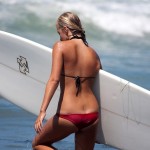 Become A Sponsor!
If you have a product or service that is a good fit for our surf community, we have opportunities for you to sponsor this blog!
Download our media kit now!