VIA – HUFF POST
Posted: 08/05/2013 1:44 pm EDT
Two separate serious shark attacks off the coast of Oahu and Maui in Hawaii last week have closed beaches and terrified swimmers. The victims of both attacks are recovering, and each recently described the scary incidents to local news media.
The first attack, on July 29 at White Plains in Ewa Beach on Oahu, involved a teenage surfer who was bitten while about 100 feet from shore. Kiowa Gatewood told local station KHON 2 that he stared the shark in the eyes as it bit down hard on his leg.
"I saw its face. It just came out of the water and I saw everything," Gatewood told the station. "What I did was I used my left hand and I hit him on the side of his face right over here, and then it let go and then I turned right around and it swam off."
Witnesses believe the shark was between 8 and 10 feet long, according to KHON.
The second attack occurred a few days later, on July 31, according to NBC News. Evvone Cashman, a retired teacher, was bitten while swimming in about 10 feet of water off Ulua Beach in Wailea on Maui.
"All of a sudden, out of nowhere, bam," Cashman said, recounting the attack to MauiNow.com from her hospital bed. "It happened so fast. I didn't see him coming. I didn't see him leave. He just came and hit me hard, and bit me hard; and I took off swimming to the shore as fast as I could."
State officials responded quickly, according to MauiNow, closing off the beach for a mile in both directions. (It was reopened on Thursday.) The doctor who operated on Cashman said her injuries, which included a nasty 15-inch gash on her back, suggested the shark could have been up to 25 feet long.
Experts told KHON 2 that the attacks could be related to murky water conditions created by the recent tropical storm Flossie.
"Because there's lots of food being carried in there, so they're coming closer the shore," Waikiki Aquarium Director Dr. Andrew Rossiter told the station of the sharks. "The water's murky, they're basically biting into anything that they sense it's not a good time to be in the water."
Original post here:
http://www.huffingtonpost.com/2013/08/05/maui-shark-attack-victims-beaches_n_3708217.html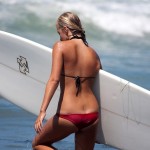 Become A Sponsor!
If you have a product or service that is a good fit for our surf community, we have opportunities for you to sponsor this blog!
Download our media kit now!