VIA = NINE MSN AUSTRALIA
7:23pm February 8, 2014
A 28-year-old spear fisherman is believed to have been killed by a shark off the SA coast.
About noon (CDT) on Saturday, the Adelaide man was fishing with mates at the popular Goldsmith beach, south of Edithburgh on the Yorke Peninsula, when he was attacked by a shark, police were told by witnesses.
Authorities have been searching since about 1pm, after his friends failed to locate him, but no trace of the man has been found.
"Witnesses saw the shark take him so it's suspected that he died from a fatal shark attack," a police spokesman told AAP.
The search will continue until 8.30pm.
Following the attack, police warned other swimmers between Edithburgh and Port Moorowie to leave the water.
No further information was available.
http://news.ninemsn.com.au/national/2014/02/08/17/40/man-feared-dead-after-sa-shark-attack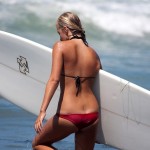 Become A Sponsor!
If you have a product or service that is a good fit for our surf community, we have opportunities for you to sponsor this blog!
Download our media kit now!