VIA – FOX NEWS
Published August 13, 2013
FoxNews.com
A 10-year-old boy was shaken, but uninjured when he was attacked by a shark during a surfing contest in South Carolina Sunday.
Officials told The Post and Courier
that Tyson Royston, of Myrtle Beach, was able to swim to safety by unhooking the leash connecting his ankle to the board, which the shark had grabbed. Two surfers helped the boy back onto the shore.
"The shark got tangled in his leash," Nancy Hussey, a director of the Southern South Carolina District of the Eastern Surfing Association, told the paper. "He had the presence of mind to remove his leash, and I think that's what saved him … This is a big incident that had a very happy ending."
The rest of the competition was postponed until next month after the incident.
Officials suspect that the attack was carried out by a bull shark, a notoriously aggressive species which is known to frequent warm, shallow water. Hussey told The Post and Courier that sharks are known to inhabit the area near where Royston was attacked, but added that incidents are rare.
Read more: http://www.foxnews.com/us/2013/08/13/shark-attacks-10-year-old-boy-during-sc-surfing-contest/?test=latestnews#ixzz2bs7FOa8Q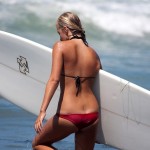 Become A Sponsor!
If you have a product or service that is a good fit for our surf community, we have opportunities for you to sponsor this blog!
Download our media kit now!