This reminds me of a time with my buddy Dave back about 20 years ago…
VIA – WEST BRITON
By WBMiles | Posted: May 29, 2014
The spot on the sheer cliff face where Leyton Gritt abandoned his board midway through a death-defying climb.
A terrified surfer who feared for his life scaled a sheer cliff face of more than 100ft in his wetsuit.
Leyton Gritt managed to keep hold of his much-loved surfboard for the first 70ft of the death-defying climb before abandoning it to tackle a massive overhang.
Coastguard staff who had carried out a search for Mr Gritt went out the next day to recover his board from its precarious resting place halfway up the cliff.
Rob Farr from St Agnes Coastguard who went to rescue Mr Gritt's board the following day.
The young surfer was caught in a rip current off Perranporth beach and repeatedly smashed into the bottom of the cliff face.
Mr Gritt, from St Agnes, said: "I knew there was only one way out and that was up. I thought I was going to die.
"I looked up and could see the rocks were all jagged – it was horrific."
The bare-footed 24-year-old had only just bought a new 5ft 10ins board after his old one was smashed on a previous surfing excursion and was not about to let it go.
But after climbing 70ft in his wetsuit Mr Gritt came to a large overhang and realised he would have to leave his board behind if he were to stay alive.
"I thought I was either going to get over it or going to die," he said. "There was no surviving a fall."
Surfer Leyton Gritt who climbed sheer cliff face in his wetsuit to escape death.
Mr Gritt scaled the overhang and scrambled up the last 70ft of the cliff to arrive in the garden of the Youth Hostel overlooking Droskyn Point.
Ivor Thomson from St Agnes Coastguard said it was a miracle that somebody had climbed a sheer cliff face with no shoes and no climbing experience but would advise against anybody else tackling such a feat.
The coastguard were called out to the incident on Friday shortly after 8.30pm by another surfer who saw Mr Gritt in trouble and ran to the Watering Hole pub to call for help.
Mr Thomson said: "I'm astonished by the scale of the cliff he climbed. It was pure adrenaline that got him up there. It seems like he had no choice but he is a very lucky guy."
The coastguard team arranged to rescue the lost surfboard as part of their Saturday training session as they were concerned a member of the public may try to retrieve it and get into difficulty.
Rob Farr, deputy station officer, was lowered halfway down the cliff and brought back up with the board in hand.
Mr Thomson expressed his gratitude to St Agnes inshore lifeboat who attended the initial rescue and to Falmouth Coastguard who co-ordinated the response.
Mr Gritt said he was "overwhelmed" when he discovered how many people had turned out to try to rescue him and was particularly grateful for getting his board back.

Read more at http://www.westbriton.co.uk/Surfer-cheats-death-scaling-cliff-face-surfboard/story-21153533-detail/story.html#DvyvVhqs0ZDPOTTl.99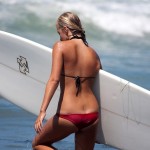 Become A Sponsor!
If you have a product or service that is a good fit for our surf community, we have opportunities for you to sponsor this blog!
Download our media kit now!