so sad…
VIA – SMH
Family and friends of the surfer gather on Campbells Beach after the teenager died from a shark attack. Photo: Frank Redward
A teenage surfer died after he was attacked by a shark while body boarding with mates at Campbells Beach near Coffs Harbour on the NSW north coast on Saturday.
Zac Young, 18, was surfing with three friends about 100 metres off shore at Riecks Point, at a break known as The Well, when he was bitten on the legs by a shark. His friends managed to pull him to shore and started CPR.
"His mates struggled with the shark for a short time. Then the shark has let go and friends then courageously managed to get him to shore," Inspector Joanna Reid told reporters at the scene.
It is understood the teen was from Port Macquarie but was staying with friends at a Sapphire Beach resort.
A spokeswoman for the Ambulance Service said: "He suffered a traumatic cardiac arrest as a result of his injuries."
She said his friends were trying to revive him when paramedics arrived but he could not be saved.
Zac Young, 18, was surfing with three friends when he was bitten on the legs by a shark.
Photo: Facebook
Paramedics trekked through about 100 metres of bush to get to the section of unpatrolled beach off Elouera Street.
Tributes to the teenage surfer have been posted on Facebook. Ros Ralph wrote: "Miss you Zac. You made the world a better place.
Your presence lit up the room when you entered. Your smile made a difference, and your words were uplifting."
Another, Brandon Erga, wrote: "Love you brother. I know you're surfing the sickest barrels in Heaven right now."
Surf Life Saving NSW Lifesaving manager Andy Kent said this was an awful tragedy.
''The hearts of all surf lifesavers go out to the family of this young victim,'' he said.
He said surf lifesavers using inflatable rescue boats cleared all surfers from the water and closed beaches in the aftermath of the attack.
Surf Life Saving NSW closed all beaches close to where the attack happened.
Kevin Clancy, from Surf Lifesaving North Coast, said the beaches would be off-limits while police continued investigations.
"Our beaches will be closed for at least 24 hours," Mr Clancy said.
A spokeswoman for the Department of Primary Industries said it had initiated its shark incident response plan.
She said a shark biologist would travel to the scene and study the attack pattern to identify the species of shark.
The attack follows a fatal shark attack in Western Australia on November 23 and is the first fatal attack in NSW since 2008, when a 16-year-old body-boarder was killed at North Wall, near Ballina.
The latest victim's body was believed to have been taken to Coffs Harbour Health Campus, but a spokeswoman from the campus declined to comment.
Lifesaving staff were warning Coffs Harbour hotels not to allow guests to go down to the beaches closed in the wake of the attack.
West Australian Premier Colin Barnett has raised the prospect of a cull of sharks lingering near the southwest coast of his state.
Mr Barnett said: "I don't know if it's a cull as such – and maybe that means different things to different people – but I certainly acknowledge that the public is demanding that sharks, where they stay around popular swimming or surfing areas, should be destroyed. I'm in that camp."
Last year, there were two shark attack fatalities in Australia, according to Taronga Zoo's Australian Shark Attack File. Great white sharks were involved in eight out of 14 incidents of unprovoked attack.
Read more: http://www.smh.com.au/national/surfer-killed-in-shark-attack-near-coffs-harbour-20131130-2yi51.html#ixzz2m7G52LGh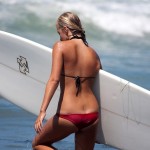 Become A Sponsor!
If you have a product or service that is a good fit for our surf community, we have opportunities for you to sponsor this blog!
Download our media kit now!