VIA – NEWS TALK ZB
By: Jacqui Stanford, | New Zealand News | Saturday December 21 2013 19:46
A surfer has been rescued in a bizarre incident near Gisborne, where he was hooked up in a contiki line and towed more than 500 metres offshore.
The 25-year-old Frenchman was surfing at Wainui Beach around 2.30 this afternoon when he became caught up in the fishing line from a motorised contiki being launched from the beach.
Witnesses say he was dragged a long way out to sea by the device.
He was helped back to the beach by other surfers who managed to untie the line, with the hook still deeply imbedded between his thumb and first finger.
He was taken to Gisborne Hospital by St John ambulance to have the hook surgically removed.
Police and members of the local surf lifesaving club also responded to the emergency.
photo: Getty Images
Original post:
http://www.newstalkzb.co.nz/auckland/news/nbnat/800781176-surfer-rescued-in-bizzare-incident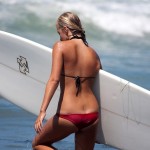 Become A Sponsor!
If you have a product or service that is a good fit for our surf community, we have opportunities for you to sponsor this blog!
Download our media kit now!