VIA – GOLD COAST AU
Robyn Wuth   |  06:04am August 29, 2013
GOLD Coast surfer Mark Richardson has been stripped of his 2011 World Masters Championship gold medal more than two years after testing positive to cannabis.
The International Surfing Association announced the result this week — more than nine months after Richardson handed his medal back and served a three-month sanction from the sport.
Yesterday the former masters champ and Australian surfing star said he was "horrified" the ISA outed the result so long after the matter had been dealt with.
Richardson tested positive to THC which is found in marijuana and is the first gold medallist to return a positive result since the ISA began its drug-testing program.
Only a handful of professional surfers have returned positive results since the introduction of drug testing to the sport.
While marijuana is not considered to be a performance-enhancing drug, it is a banned substance according to the World Anti Doping Association, of which the ISA is a signatory.
"It's such a shock that this has surfaced now after all this time," Richardson said yesterday.
"This happened two years ago and was finalised nine months ago.
"I am at breaking point with this whole thing."
Richardson said he knew after winning the event in El Salvador that he would be tested in accordance with ISA policy and was stunned when the test was positive.
The result was "just positive" and Richardson believed that it must have been a residual amount of THC in his system.
Angry fans vented against the decision on surfing forums, with one labelling the result ridiculous.
"Did they test him two years after winning in El Salvador????????" Chucky wrote.
"If he tested positive during the contest then this would've happened 2 years ago. This is ridiculous!!! Mark Richardson owned that contest … looked like Occy!!!
"Still the champ in my eyes!!"
Richardson fought hard for the win, forced to surf through the six elimination repecharge heats but surged into the final with five firsts and a second.
Yesterday the surfer accepted he had broken the rules but felt he had been persecuted.
"I know I have done something wrong but I don't feel that I've done anything wrong because it was not performance-enhancing," he said.
The ISA refused to comment on the issue yesterday but association president Fernando Aguerre has been quoted as saying the ISA began testing in 1992.
"Since then, the ISA has conducted over 600 drug tests, including to all finalists at all our World Championships, and this is the first gold medallist who has tested positive."
For the original post go here:
http://www.goldcoast.com.au/article/2013/08/29/457135_gold-coast-news.html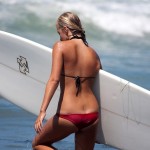 Become A Sponsor!
If you have a product or service that is a good fit for our surf community, we have opportunities for you to sponsor this blog!
Download our media kit now!