so sad…
VIA ABC NEWS
Sept. 12, 2013
Firefighters dug a trench under a Jersey Shore boardwalk in an effort to prevent a furious, wind-whipped blaze from spreading to a section just rebuilt after being destroyed by Superstorm Sandy.
This evening, the blaze reached 10 alarms, according to ABC News New York station WABC. It had already destroyed a length of boardwalk, according to officials, containing perhaps 20-30 businesses in Seaside Park, N.J., near the same stretch of sand where a rollercoaster landed upright in the ocean after Sandy hit the coastline in October 2012.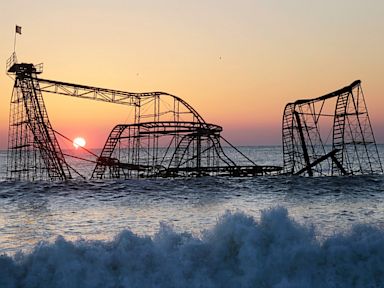 "I said to my staff, 'I feel like I want to throw up,'" N.J. Gov. Chris Christie told reporters near the fire scene this evening. "And that's me, after all the effort and time and resources that we put in."
By nightfall, a six-block length of boardwalk south of Lincoln Avenue had been almost totally destroyed, but firefighters were hopeful of keeping 30-40 mph winds from blowing the fire further north across a trench set up at Lincoln Avenue, Christie said. The site of the trench and beyond included a stretch of boardwalk just rebuilt after Sandy devastated the area.
"I know how I'm feeling," Christie said. "I can only imagine how the residents and business owners in this area are feeling. My heart goes out to them. That's why I'm here to make sure that every resource is brought to bear to contain this problem."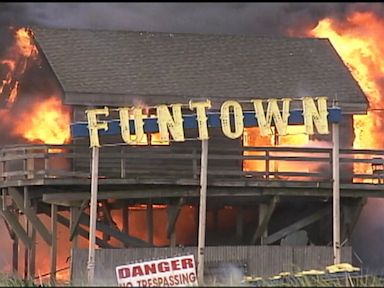 Officials hoped a storm front expected in the area this evening would help douse the flames and calm the winds, Christie added.
Only minor injuries to firefighters have been reported, he said.
The fire may have begun at a Kohr's frozen custard stand on the boardwalk, according to WABC.
However, a state official told ABC News, "we have no clue" what started the blaze and officials are not even comfortable officially saying where it began.
"Right now," the official said, "the key thing is keeping it from jumping across the street."
Officials told ABC News that the section of boardwalk on fire was the only stretch that was not rebuilt after Sandy. It was part of the old boardwalk that was not destroyed in the storm, they said.
Besides the wild winds, the nature of the construction was seen to be fueling the fire.
"The boardwalk's made out of wood," said John Camera, borough administrator in neighboring Seaside Heights, according to ABC News Radio. "Most of the construction on the buildings is wood and I'm sure it's spreading."
Christie told area home- and business owners to stay away until they were told it was safe to return.
"Do not come here," he said. "Do not travel. Stay away. We are still trying to bring more fire equipment in here … and we need to have easy access to this boardwalk."
He noted logistical difficulties firefighters faced, including special lines that had to be set up to draw water from Barnegat Bay because of infrastructure damage to the water system caused by Sandy.
Firefighters from departments all over New Jersey responded to battle the blaze, Christie said.
Seaside Park Police Chief Francis Larkin told WABC this afternoon that workers were hosing down the boardwalk in the rebuilt area ahead of the flames, as well as rides and amusements, to try and keep the fire from spreading.
For the full story go here:
http://abcnews.go.com/US/jersey-boardwalk-spared-sandy-ablaze/story?id=20241249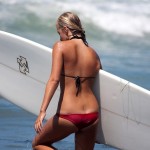 Become A Sponsor!
If you have a product or service that is a good fit for our surf community, we have opportunities for you to sponsor this blog!
Download our media kit now!