NYANG – NYANG & PLAY GROUND CAMP Mentawai islands with my surf camp in siberut islands close wave like e'bay, beng-beng, nipussi, pitstop just onfoot
Mentawai surf camp siberut is a traditional beach resort located on the island of nyang-nyang , one of the most beautiful island in Mentawai.
White sandy beach, countless palm trees, beautiful coral reefs, breathtaking waves, and priceless experience. These are all characteristics which you will find on this island. The nyang-nyang island is ultimately a hidden paradise.
​
The accommodation of mentawai surf camp siberut includes an affordable resort located along the white sandy beach. Despite the traditional decoration, this resort provides modern style living facility, with a typical Indonesian family atmosphere, you will certainly experience a unique holiday.
The Mentawai Islands offer some of the best surf to be found anywhere, with more perfect left and right handers in one region than anywhere on earth. The surrounding water region attracts swells all year round with the most consistent season generally being between March and November.
Surf spots just onfoot
Beng Beng => A very consistent world class wave, an extremely rippable left. This spot is loads of fun and probably one of the easiest waves to surf in the Mentawai's. It's the deepest and safest wave in the area and also pick up a bit more swell than other locales. 5 more breaks in the area, including E-Bay and Pitstops. Nestled inside a small bay with one of the most scenic views imaginable all around you.
E-Bay => This is a hollow left that barrels off the take-off with a short wall down the line. A great option when a lot of swell is hitting. A hollow, fast, powerful left. A world class wave for experienced surfers. Watch out for the two rocks on the inside. Great barrels, and turns into a surfing paradise at 6 feet offshore. There is a heavy warble that hits as you are taking off. Make the drop and don't get thrown by that first warble and chances are you'll get a mean aqua blue barrel. The scenery alone will blow you away. Besides its aesthetic beauty, double overhead E-bay is a beast and forces to be reckon with.
Nipussi or Pussies => A shorter right that breaks down the point from Bank Vaults. Definitely fun and rippable. Usually has fairly deep water from the takeoff to the inside. Ends in a riptide that sucks all the water back out to sea. A good option when there's not much swell, and usually the most consistent spot in the area.
Pitstops => This is the right off the peak at E-Bay. A playful right that can offer some cover-ups off the take-off, but mostly a high performance wave with air sections at the end. Ends in a sandy channel.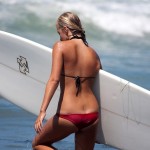 Become A Sponsor!
If you have a product or service that is a good fit for our surf community, we have opportunities for you to sponsor this blog!
Download our media kit now!