VIA – UT SD
By John Wilkens5:30 p.m.Nov. 22, 2013
"Portraits of the American Craftsman," a new coffee-table book about people who work with their hands, includes a profile of San Diego surfboard maker Tim Bessell.
Texas photographer Tadd Myers spent five years traveling the country to take photographs for what he calls "a celebration of handmade in America." He came back with stories about people who make banjos, pipes, hats, baseball gloves, boots, knives, jewelry, jeans, guitars — 30 profiles in all.
Bessell handmakes about one or two surfboards a day. "When I had done my first 500 boards, I thought I was the king," he says in the book. "But by the time I'd done 5,000 boards, I realized I didn't know anything. It wasn't until I made 30,000 surfboards that I felt I really knew how to make a great board."
"Portraits of the American Craftsman," by Tadd Myers, Lyons Press, 288 pages, $29.95
Original post:
http://www.utsandiego.com/news/2013/nov/22/craftsman-book-bessell-surfboards/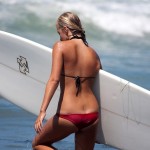 Become A Sponsor!
If you have a product or service that is a good fit for our surf community, we have opportunities for you to sponsor this blog!
Download our media kit now!