VIA – DISCOVERY.COM
A mysterious, horned, marine creature approximately 13-feet long was found, washed ashore on the beaches of Villaricos, Spain. A woman on Luis Siret Beach first discovered the head of the "sea monster," then the body separately, further down the beach.
Local authorities were contacted and removed the pungent, rotting remains from the scene.  Due to the highly decomposed state, they have yet to identify the creature. Officials were able to identify the "horns" as displaced bones but reported they have never seen anything like it on the beaches in the region.
Photos from Ideal.es Ameria Facebook page

Samples of the remains have been turned over to the marine protection agency PROMAR for testing, according to Think Spain.
Both experts and locals have various speculations of the creature's identity: a deep-sea shark, oarfish, water dinosaur, sea dragon or a Loch Ness 'Nellie' relative.
We're going with "sea unicorn." *fingers crossed*
Original article:
http://blogs.discovery.com/bites-animal-planet/2013/08/horned-sea-monster-carcass-found-on-spanish-beach.html#mkcpgn=fbapl1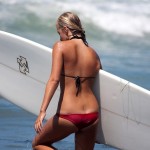 Become A Sponsor!
If you have a product or service that is a good fit for our surf community, we have opportunities for you to sponsor this blog!
Download our media kit now!