Sapa | 10 April, 2013 08:44
Jordy Smith of South Africa competes at the Billabong Pro Surf World Championship in Jeffreys Bay
Image by: Dominic Barnardt / Gallo Images
Jeffrey's Bay in the Eastern Cape is to lose R20 million in tourist income because its annual Billabong Pro surfing contest is off after 25 years, it was reported on Wednesday.
The Cape Times reported that the event's key sponsor, Billabong, had withdrawn its funding as it faced financial trouble and was up for sale.
"Billabong has been the major sponsor of this event for over 25 years. There have been various other sponsors over the years, but they have only contributed a small percentage of the total cost of the event," Billabong Pro marketing director Chad D'Arcy said.
The annual contest featured about 32 of the country's top surfers including juniors.
There were also four wildcard entries at times including surfers from overseas.
Event spokesman Craig Jarvis told the newspaper the contest could have been saved this year if there was government funding.
"But that is unlikely to happen. [It] is a huge disappointment for the local community and [for] surfing," he said.
For the original post go here:
http://www.sportlive.co.za/moresport/other/2013/04/10/loss-of-surfing-contest-costs-jeffreys-bay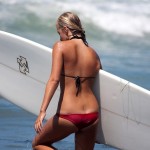 Become A Sponsor!
If you have a product or service that is a good fit for our surf community, we have opportunities for you to sponsor this blog!
Download our media kit now!