VIA – DAILY MAIL UK
By Colette Fahy
PUBLISHED: 15:06 EST, 26 August 2013 | UPDATED: 04:06 EST, 27 August 2013
She might be a 44-year-old mother-of-two but Naomi Watts showed she's a surfer girl at heart as she hit the waves in the Hamptons last Tuesday. 
The blonde beauty joined Liev Schreiber and sons Sasha, six, and Samuel, four, at the beach in the exclusive area of New York and was put through her paces on the board by her partner. 
The Ray Donovan actor – who is an experienced surfer – provided advice and encouragement as Naomi successfully caught some waves.
Surfer girl: Bikini clad Naomi Watts looked amazing as she grabbed some waves in the Hamptons last Tuesday
Watts looked stunning in blue bikini bottoms and a red and white surf top while Liev looked every inch the surfer in his all black ensemble. 
Proud Schreiber, 45, later left the water for a walk on the beach with the couple's kids but kept a close eye on his protégé as she attempted some moves on her own.
He stripped off his top to reveal his muscular physique, proving that his love of the sport has kept him in shape.

Surfing guru: Naomi got some advice from her partner Liev Schreiber, who is an experienced surfer, before she took to the waves
The advice seemed to pay off as a confident Naomi navigated her board with ease although she had to concentrate deeply
For the full article and all the photos go here:
http://www.dailymail.co.uk/tvshowbiz/article-2402268/Naomi-Watts-44-gets-bikini-ride-waves-family-holiday.html?ito=feeds-newsxml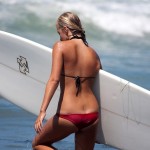 Become A Sponsor!
If you have a product or service that is a good fit for our surf community, we have opportunities for you to sponsor this blog!
Download our media kit now!