VIA – THE COAST NEWS
Apr 28, 2013 • 144 views •
Jim Phillips works on a hand-shaped surfboard blank at his shed. A longtime surfboard shaper, Phillips continues to push forward with surfboard design. Photos by Jared Whitlock
ENCINITAS — Covered in a light layer of resin dust, Jim Phillips clamped parts of a surfboard together on a gloomy morning. A dozen surfboards in various stages of production and tools were scattered about his rickety shed on "the hill" — a hub for Encinitas surfboard shapers.
Even though he has been making surfboards since the early 1960s, he certainly shows no signs of complacency or of slowing down. Phillips attributes his unending quest for the perfect surfboard to a proud family tradition.
"My father, grandfather and great grandfather were builders and craftsmen; I know they've got an eye on me 24 hours a day," Phillips said. "I feel like I have an obligation to do the absolute best possible job God gave me the ability to do."
Phillips, the son of an Air Force officer, grew up in Columbus, Ohio. When he was 15 years old, his dad was transferred to Hawaii, where Phillips was introduced to surfing.
He badgered his dad to buy him a surfboard, but due to the cost, Phillips was instead given a do-it-yourself surfboard kit. In retrospect, Phillips said the kit was key because it forced him to learn through trial and error.
"In those days, not many people were eager to share how to shape with you," Phillips said. He added that it put him "on the path of self-reliance."
By the end of high school, Phillips managed to shape around 30 boards when he wasn't in the water. His talent even attracted the attention of a large surfboard company that gave him a job. But the time dedicated toward surfing and shaping took a toll on his grades. Consequently, his dad wasn't happy, and only later warmed to the idea of his son being a surfboard shaper.
"He was a decorated war veteran…and here I was — the village idiot tinkering with surfboards," Phillips said.
His dad tried to stop him from surfing by hiding his board at an Air Force hanger; however, that did nothing to quell Phillips' enthusiasm for riding waves. But shortly after, his dad was transferred to a small farming town in Delaware, and Phillips went with him against his will. About a year later, Phillips packed up and bummed around on the East Coast as an up-and-coming shaper for the next few years.
"My first realization was how brutally cold the water is compared to Hawaii," Phillips said of the East Coast.
And the waves weren't nearly as good. Still, he enjoyed making surfboards for a burgeoning surf scene.
In his early 20s, he opened a business in Rhode Island, and then later a large surfboard factory in Florida. He also exploded onto the competitive surfing scene, racking up three U.S. surfing championships and other contest wins over the years.
And although he had more people working under him in Florida and produced more boards, he still favored hand-shaped surfboards.
"There was no losing sight of how much better hand-shaped boards are to ride," Phillips said.
Phillips stayed in Florida until a perfect storm swept through his life in the early 1990s — a national recession hit Florida especially hard and took a big bite out of surfboard demand. He also went through a divorce and a business partner stole money from him.
"The bottom just fell out of my dream," Phillips said.
Jim Phillips' shaping room.
In the wake, Phillips took a shaping job in San Diego after making some contacts during a surf contest. Since then, he's happily shaped custom longboards from his Encinitas space, calling it "the best move I ever made."
But he noted that making it as a custom surfboard shaper is difficult since the price of materials has dramatically ramped up. Plus, cheaper surfboards from China have flooded the market in the past decade.
In response, he's focused on high-end surfboards, often shipping nationally and even internationally.
Marcelo Lobos, president of the Swami's Surfing Association, has known Phillips for three years. Lobos said that Phillips is a "great guy and shaper" who always volunteers to help the club with charity programs.
And Lobos recalled riding one of Phillips' boards a couple of years back.
"It was just so smooth and handled very well," Lobos said.
Recognition for Phillips' craft goes beyond the association. Phillips noted he's particularly proud of winning the 2009 Billabong Art of Shaping event with a 17-stringer "Rising Sun" surfboard.
While he's constantly pushing forward with surfboard design, he also occasionally plays in the past. On May 11 at the Orange County Fairgrounds, he'll display a 1940s wooden surfboard he restored.
"I try and do the best I can every day," Phillips said.
For the original post go here: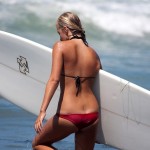 Become A Sponsor!
If you have a product or service that is a good fit for our surf community, we have opportunities for you to sponsor this blog!
Download our media kit now!