Raddest House EVER? Ya!
VIA – la.curbed.com
Etnies Owner's Skateboardable Malibu House Will Have No Corners
Monday, July 11, 2011, by Adrian Glick Kudler
Image via Etnies
Former skateboarder Pierre-André Senizergues, who owns skate shoe company etnies and assorted associated brands, wants what any skateboarder wants: a house that's completely skateable–no corners, only ramps. And since he owns a bunch of successful companies, he can actually make it happen. He's brought in artist Gil Le Bon Delapointe and architect Francois Perrin to design the 2,200 square foot…
for the full story go here:
http://la.curbed.com/archives/2011/07/etnies_owners_skateboardable_malibu_house_will_have_no_corners.php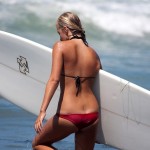 Become A Sponsor!
If you have a product or service that is a good fit for our surf community, we have opportunities for you to sponsor this blog!
Download our media kit now!