VIA – THE PILOT
Oprah Network features Wrightsville Surf Camp
Friday, August 5, 2011
The Oprah Winfrey Network (OWN) will feature surf camp action from Wrightsville Beach on Saturday, Aug. 6, from 4 to 4:30 p.m.
The half-hour segment is part of a five-hour Oprah marathon titled "The Swell Life" with Izzy Paskowitz, head of the family's surf camp Surfers Healing for kids with autism.
Moore County residents Emily and Jeremiah Partain have attended Surfers Healing camps.
"We hope that they will use footage of Emily and Jeremiah surfing or getting their surfboard signed," says their mother, Mickey. "We signed release papers, so hopefully we'll see them on screen."
The entire series can be seen Saturday, from noon to 5 p.m.
Founded in California by professional surfer Israel "Izzy" Paskowitz for his son, Isaiah, who was diagnosed with autism at age 3, Izzy discovered the positive impact that surfing had on his son…
For the full story go here:
http://www.thepilot.com/news/2011/aug/05/oprah-network-features-wrightsville-surf-camp/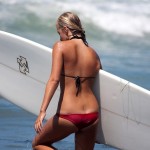 Become A Sponsor!
If you have a product or service that is a good fit for our surf community, we have opportunities for you to sponsor this blog!
Download our media kit now!