VIA – HUFFINGTON POST

Shaun White Displays His Surfing Skills
Posted: 7/31/11 05:42 PM ET
Without question, Shaun White is the greatest competitive snowboarder ever. Back-to-back Olympic Gold Medals. An astounding 11 X Winter Games Gold Medals. Six US Open Titles. Snowboarding Grand Prix Gold Medalist. The list goes on and on. And at the young age of 24, who knows what snowboarding accomplishments White will add to his resume.
The snowboard isn't the only shred stick that White dominates on. When White's career was just beginning, White was known as much for his skateboarding skills as his mastery of the snowboarding craft. As a vert skateboarder, White has two Summer X Games Gold Medals, including his recent dramatic victory at the 2011 Summer X Games.
Despite his dominance on both a snowboard and skateboard, White has been relatively quiet when it comes to the founding father of board sports, surfing. In the new surf book Dogwild & Board, White talked about surfing as a young kid, and why he stayed away from the water for many years. "My dad wanted me to be a surfer in the beginning. He took me out when I was nine. It's pretty scary when you're small, because the waves look huge," said White. "My dad sends me down this wave. I get swirled around, and it's my first time on a hard board. I come out of the water, and the board hits me in the face! I start bleeding everywhere, and decided I'm never doing this again. So I shied away from surfing and went to the skatepark."
For the full story and tons of photos, go here:
http://www.huffingtonpost.com/cyrus-saatsaz/shaun-white-surfing_b_914445.html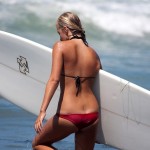 Become A Sponsor!
If you have a product or service that is a good fit for our surf community, we have opportunities for you to sponsor this blog!
Download our media kit now!