Derek Hynd is an Australian surfer/shaper/writer. On top of being a former contest pro and intelligent writer, he's one of surfing's great innovators and explorers. His ability of high level surfing as well as having such an understanding of board shaping and hydrodynamics puts him in a category which only the likes of George Greenough and Tom Wegener can hold a candle to.
Over the past few years Derek has been shaping and riding his own finless surfboard design. Instead of joining the throngs on the trail of the Polynesian Alaia he's been updating this concept by using the advances of bottom contours in PU blanks. This newly invented, skegless board design has allowed him to harness the reduction of friction along with having the hold, trim and turning properties of concave. These results may just be a window into the future. Derek Hynd we salute you!
Check out this mind blowing vid segment of D.H. riding some of his finless wonders
For more incredible footage of Derek Hynd add this radical classic to your video library asap: Litmus The Special Edition DVD- http://www.swell.com/LITMUS-SPECIAL-EDITION-DVD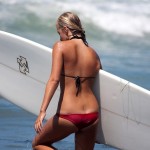 Become A Sponsor!
If you have a product or service that is a good fit for our surf community, we have opportunities for you to sponsor this blog!
Download our media kit now!