Some Monday's I feel are torture, but then I look at these little fellows and things seem a lot better…
VIA – QuestionableEvolution.com
What's the matter, louse got your tongue? (Cymothoa exigua)
Common Name: The Tongue-Eating Louse
A.K.A.: Cymothoa exigua
Vital Stats:
Females are 8-29mm long by 4-14mm wide (0.3"-1.1" x 0.16"-0.55")
Males are 7.5-15mm long by 3-7mm wide (0.3-0.6" x 0.12"-0.28")
Preys on 8 species of fish from 4 different families
Found: In the Eastern Pacific, between the Southern U.S. and Ecuador
It Does What?!
With a name like "Tongue-Eating Louse", you know this is going to be viscerally horrible, but bear with me… it's also pretty neat. Despite the name, these aren't actually lice, but parasitic crustaceans known as isopods. While there are dozens of species in the genus Cymothoa, most are parasites which live in the gills of fish and are, relatively speaking, unremarkable. But Cymothoa exigua is something special. While the male of the species (and this is a slippery term, as they can change sex when necessary) lives in fish gills, the female has developed an altogether original strategy.
Entering through the gills, the female takes up a position at the back of the fish's mouth and attaches herself to the base of its tongue. She then pierces the tongue with her front appendages and begins to consume the blood inside it. Over time, the lack of bloodflow causes the tongue to slowly wither up and fall off. What's left is a stump consisting of about 10% of the original tongue (yes, someone measured this). The parasite can now attach herself to the stump using her seven pairs of hook-like pereopods (read: 'feet') and actually begin to function as the fish's tongue.
What's really amazing is how well this seems to work. The parasite has evolved a body shape which closely matches the curves of the inside of the host's mouth. Unlike our tongues, a fish tongue has no real musculature or flexibility; its only real function is to hold food against the fish's teeth. With the parasite in place, the host is able to use its body to do exactly that. While the isopod is thought to feed on the fish's blood, researchers have found that infected hosts have normal body weights and typical amounts of food in their digestive tract when caught. This is, to date, the only known case of a parasite functionally replacing an organ in its animal host.
Once it's in there, this thing's not coming out without a fight.
Says Who?
Brusca & Gilligan (1983) Copeia 3: 813-816
Brusca (1981) Zoological Journal of the Linnean Society 73(2): 117-199
Williams & Bunkly-Williams (2003) Noticias de Galapagos 62: 21-23
See you in your nightmares.
Original source:
http://questionableevolution.com/2012/06/20/whats-the-matter-louse-got-your-tongue-cymothoa-exigua/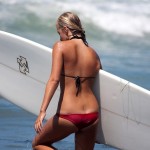 Become A Sponsor!
If you have a product or service that is a good fit for our surf community, we have opportunities for you to sponsor this blog!
Download our media kit now!