Few have contributed as much to the innovation and performance to modern surfing than Reno. Learning the art of shaping in his teens with Hawaiian legend Dick Brewer before working at Lightning Bolt surfboards, he applied his understanding of board design to the big and hollow waves of Oahu. Through the 70's Abellira experimented with different fin designs, from Lopez championed single fin pintails, to Mark Richards style fishes and even the tri-fin. Mark Richards credited Reno has inspiring him to shape the twin fins that won him 4 world titles. Reno's surfing has always been defined by his win at the legendary 1974 Smirnoff Pro at Huge Waimea, and his unique and subtle brand of power surfing.
Here's a video of Reno Surfing and Shaping – http://www.youtube.com/watch?v=CzJO4NrNwzQ&p=404E255508588CE1
for those interested in contacting Reno for his surfboards or art – [email protected]
Bio Referenced from – worldchampionsofsurfing.com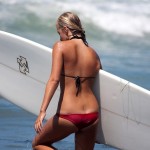 Become A Sponsor!
If you have a product or service that is a good fit for our surf community, we have opportunities for you to sponsor this blog!
Download our media kit now!