The beta is finally here! After months and months of developing, we are ready to launch the beta version of our Surf exclusive business directory. We want to take our time before releasing the commercial version. This way we can gather a significant amount of feedback from our beta users which will result in a better service. And best of all… It's free!
While in beta mode, our business directory will be completely free to use. We want to give our beta users unlimited access to entice as much feedback and usage as possible. So stop wasting your time by reading the rest of this blog and submit your listing for free!
The nuts and bolts
There are many features that we think you might really appreciate. Here are some of the main things our directory does for you:
Easy editing
Google Maps integration
Ratings for listings
Region Control for your listings
Location Based Searches
How long will it be free to submit a listing on Surftweeters?
Honestly, we do not have an answer to this question. This will all depend on what you guys tell us. We don't want to officially launch until we are completely confident that we have delivered the best Surfing directory out there. Hopefully we will release the final commercial version sooner than later but in the meantime, we will be busy improving it and listening to what you have to say. We welcome your question, comments or feedback. Happy beta testing to all!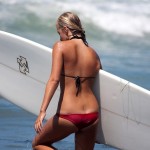 Become A Sponsor!
If you have a product or service that is a good fit for our surf community, we have opportunities for you to sponsor this blog!
Download our media kit now!