VIA – KEYT
No injuries reported in the close call
POSTED: 07:09 PM PDT Oct 20, 2014 
UPDATED: 07:37 PM PDT Oct 20, 2014

SANTA BARBARA, Calif. –
What was said to be a young Great White shark took two bites on an outrigger canoe Sunday three miles off the Santa Barbara coast. The woman on board was sent into the ocean, but was not harmed.
Tara Burnley reported the incident to the Harbor Patrol on Leadbetter Beach.  The outrigger was clearly chewed but she was unscathed.
Burnley said the shark was about six-feet long. It swam away after biting the outrigger giving her time to get back to shore.
Harbor Operations Director Mick Kronman says no warning signs will be posted because the attack was so far off the shore, or areas where most of the public takes part in recreation.  "It didn't warrant that," he said.
"We really don't see it as an immediate threat  to the local public so we don't post advisories for something like this," said Kronman.
The bite was on a small balancing piece for the outrigger called the ama.
"The ama is the stabilizing arm that comes off the side of an outrigger  and the shark bit that actually twice,  and the second time she lost her balance and fell out of the outrigger canoe, to hear her tell it,  but she was able to get back in and the shark did not harm her," said Kronman.
"We haven't had an attack in city waters, ever,  according to city records.  And may it stay that way," said Kronman.
Recently however, off the coast of Vandenberg Air Force Base two kayakers were rescued after shark attacks about an hour apart in the same area.
For the full story and video go here:
http://www.keyt.com/news/shark-attack-on-outrigger-sends-woman-into-ocean/29246056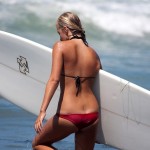 Become A Sponsor!
If you have a product or service that is a good fit for our surf community, we have opportunities for you to sponsor this blog!
Download our media kit now!