VIA – DANA POINT TIMES


22nd Annual Dale Velzy Surf Classic and Luau Set for September 17
by Dana Point Times
Sep 07, 2011
The Doheny Longboard Surfing Association's annual Dale Velzy Surf Classic and Luau will be held on September 17.
After twenty plus years of successfully predicting the optimum swell and tide opportunities, the club has selected this year's Dale Velzy Classic to be held at the legendary "Boneyard" section of the Doheny State Beach.
Open to everyone who loves waves, the beach, good times, and great food. The event honors one of surfing's most famous "icons" of all time—Dale Velzy—who passed away in 2005. This is a very special program for the DLSA, as the club has been holding this classic venue for over two decades. The Velzy Classic has been designed for all who enjoy the same things that Dale enjoyed—mostly having fun with family and friends. It is in that spirit that the DLSA holds this annual event so that everyone can enjoy a full day of great activities such as the surf contest, the luau, Polynesian Dance Review and dancing under the stars to the live surf band The Eliminators.
This year's event kicks off with a Classic Longboard Surf Contest at 6:30 a.m.
The luau festivities begin at 3 p.m. with a "meet and greet" followed by a Hawaiian style dinner, Polynesian Dance Review, awards ceremony, a raffle that includes an authentic Dale Velzy surfboard and then on to dancing under the stars until 9:30 p.m.
For Luau information, tickets and group rate discounts, contact Doug Smith at [email protected]
For all the information go here:
http://www.sanclementetimes.com/view/full_story/15432507/article-22nd-Annual-Dale-Velzy-Surf-Classic-and-Luau-Set-for-September-17-?instance=surf_headlines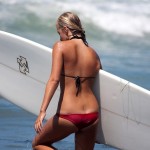 Become A Sponsor!
If you have a product or service that is a good fit for our surf community, we have opportunities for you to sponsor this blog!
Download our media kit now!