VIA – TBN WEEKLY

Katia, Maria, Nate keep NHC busy
By SUZETTE PORTER
Article published on Thursday, Sept. 8, 2011
MIAMI – The busy season of the 2011 Atlantic hurricane season is upon us, as evidenced by the number of storms forecasters are tracking this week.
Thursday morning the National Hurricane Center was watching Hurricane Katia and Tropical Storm Maria in the Atlantic and Tropical Storm Nate in the Bay of Campeche.
Nate is the 14th named storm of the 2011 Atlantic hurricane season. The long-term seasonal average is 11 named storms, six hurricanes and two major hurricanes. Irene and Katia are the only hurricanes and major hurricanes of the season thus far. Nate is forecast to become a hurricane by Friday.
Tropical Storm Nate
Nate formed Wednesday evening about 125 miles west of Campeche, Mexico. Maximum sustained winds were 45 mph with higher gusts. Nate's forecast track takes it east for the next day or so before moving slowly northward before making landfall on the coast of Mexico. Tropical Storm warnings were in effect for Mexico from Chilitepec to Celestun.
Tropical Storm Maria
Maria formed Wednesday morning in the Atlantic Ocean. It is about 1,000 miles east southeast of the Leeward Islands, moving west at about 23 mph. Maximum sustained winds were 50 mph with higher gusts. Maria is not forecast to strengthen into a hurricane. Tropical storm watches and warnings were in effect for the Leeward Islands of Antigua, Barbuda, Montserrat, Nevis and Saint Kitts.
The NHC advised interests elsewhere in the Leeward Islands, the Virgin Islands and Puerto Rico to monitor the progress of the storm. An Air Force reconnaissance plane is on its way to investigate and should reach Maria late Thursday.
It is still too early to say with certainty where Maria will go past about five days out. Computer tacking models show it making a northward turn. Some forecasters say it could follow a path similar to Hurricane Irene, which created widespread flooding, power outages and wind damage along the U.S. East Coast.
Hurricane Katia
The NHC said Katia was turning northward on a trek between Bermuda and the U.S. East Coast and was expected to continue moving north-northeast for most of Thursday. Maximum sustained winds were 80 mph with higher gusts. Katia was a Category 1 on the Saffir-Simpson Hurricane Scale.
Large swells generated by the hurricane are expected to affect most of the U.S. East Coast, including Florida, and Bermuda, as well as east-facing beaches in the Bahamas for the next two days.
Tropical storm force winds, especially gusts, are possible in Bermuda where a tropical storm watch is in effect.
Busiest time of the season
Pinellas County Emergency Management reminds residents that the busiest part of the season is yet to come. Since hurricane records started in 1855, nearly 55 percent of all storms and hurricanes form during the months of September and October.
It's been 90 years since a hurricane hit Pinellas. Officials say the part of the season is coming where landfall along the west coast of Florida is a bigger threat.
The National Oceanic and Atmospheric Administration predicts 14 to 19 named storms could form this season with seven to 10 becoming hurricanes and three to five strengthening into major hurricanes, Category 3, 4 or 5.
Dr. William Gray, professor emeritus at the Colorado State University, and Dr. Phil Klotzbach, CSU research scientist, say residents living in coastal areas should prepare for 16 named storms, nine hurricanes and as many as five major hurricanes.
Season summary
The 2011 Atlantic hurricane season began June 1. Tropical Storm Arlene formed June 29 and made landfall June 30 along the coast of Mexico.
Tropical Storm Bret formed July 17 off the eastern coast of Florida. The storm never came close to land, tracking north and east before disintegrating over the Atlantic Ocean July 22.
Tropical Storm Cindy from July 20 well offshore in the eastern Atlantic and was never a threat to land. It became a post-tropical storm on July 23.
Tropical Storm Don formed July 27 about 190 miles north of Cozumel Mexico. It fell apart as it came ashore the coast of Texas near Baffin Bay July 29.
Emily, the fifth named storm of the season, formed Aug. 1 about 50 miles west-southwest of Dominica. The storm degenerated into a tropical low Aug. 4.
Tropical Storm Franklin formed about 460 miles north-northeast of Bermuda early in the morning of Aug. 13. By end of day, the NHC announced it had lost its tropical characteristics. It was never a threat to land, remaining over the northern Atlantic Ocean.
Tropical Storm Gert formed Aug. 14 about 275 miles south-southeast of Bermuda. Two days later, Gert had degenerated into a post-tropical low.
Tropical storm Harvey formed Friday, Aug. 19, about 285 miles east-southeast of Belize City and made landfall near Dangriga Town Belize on Saturday afternoon. Maximum sustained winds were 40 mph.
Hurricane Irene formed Aug. 20. It was the ninth named storm of the season and the first hurricane and major hurricane. It is the first to hit the United States since 2008.
Tropical Storm Jose formed Aug. 28 in the eastern Atlantic while Irene was making its way along the Atlantic Seaboard. Jose skirted to the west of Bermuda before heading off into the open waters.
Katia formed Aug. 29. It was the 11th named storm. It is still active.
The 12th named storm, Lee, formed Sept. 2, creating problems for residents of Louisiana, Mississippi and Alabama over the Labor Day weekend.
For the full story and all the weather maps, go here:
http://www.tbnweekly.com/content_articles/090811_fpg-01.txt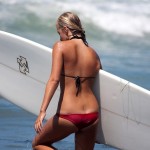 Become A Sponsor!
If you have a product or service that is a good fit for our surf community, we have opportunities for you to sponsor this blog!
Download our media kit now!