VIA – SURF COAST TIMES
A night with Lopez and Lynch
Ali Deane
February 7 2012
Pipeline master Gerry Lopez is in town this weekend to present his book with Wayne Lynch at a special event hosted by Patagonia Torquay.
Legendary wave-riders Gerry Lopez and Wayne Lynch will be in town this weekend at Patagonia Torquay for a special night as part of a three-state tour.
This Saturday night they will reveal insights into a lifetime of surfing, as chronicled in Lopez's book Surf is where you find it as well as live music by Carter Rollins. Lopez has been referred to as the greatest tuberider of all time, pioneering lines on Hawaii's north shore and his lifelong friend Lynch has been voted Australia's favourite surfer.
After first meeting Lopez whilst competing at last year's Molokai to Oahu Paddleboard World Championships in Hawaii, Patagonia Torquay's hardware manager Zeb Walsh said he was definitely looking forward to seeing him again.
"He doesn't come out here much at all, to have them, and Wayne here too, it'll be a pretty big event for sure."
Emeshe Remete of Patagonia said the crew had been both excited and honoured to have Gerry coming out to Australia.
"We feel very privileged to have Gerry present his book and a slide show of his images to the local surf community. We also felt it was time for him to return to Australia after 30 years, to reignite his reputation as someone who rode pipeline unlike others before or after him.
"Gerry transcends all genres and people of all ages will appreciate meeting him and…"
For the full story go here:
http://www.surfcoasttimes.com.au/news/community/2012/02/07/a-night-with-lopez-and-lynch/#.TzC6-PmccTA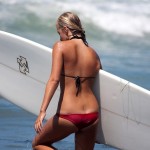 Become A Sponsor!
If you have a product or service that is a good fit for our surf community, we have opportunities for you to sponsor this blog!
Download our media kit now!