VIA – KHON
High Surf Warning in effect until 6 p.m. Thursday
Updated: 4:03 pm
High surf warning in effect through Thursday for north and west facing shores of Oahu.
A very large northwest swell will continue to affect the area tonight bringing surf heights to warning levels on many north and west facing shores.
An even larger northwest swell will spread across the area late tuesday and peak Wednesday.
Between the swells…there may be a temporary decline in surf heights below warning levels on Tuesday in some locations.
However will reach the advisory threshold tonight and up to almost warning levels by early wednesday. high surf warning in effect until 6 pm Thursday.
The National Weather Service in Honolulu has issued a high surf warning…which is in effect until 6 pm Thursday. the high surf advisory is no longer in effect.
Surf heights will be 20 to 30 ft tonight on north facing shores of Oahu.
Surf will be 15 to 20 ft along the west facing shore of Oahu. peak surf heights will be even larger on Wednesday. Surf will peak tonight…lower Tuesday…increase tuesday night and peak again Wednesday…gradually declining through Thursday.
Coastal run up is expected…
For the full surf report go here: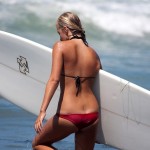 Become A Sponsor!
If you have a product or service that is a good fit for our surf community, we have opportunities for you to sponsor this blog!
Download our media kit now!