VIA – HALF MOON BAY PATCH


A Paddle Out for Beth Kilpatrick, Half Moon Bay Surfer and Swordfighter
Family and friends gathered to say goodbye to the 29-year-old that passed away on August 10 of a brain aneurysm.
By Kristine Wong
6:00am
Beth Kilpatrick, Half Moon Bay resident who was born in Green Bay and grew up in Abrams, Wisc., passed away on August 10, 2011 after suffering a second brain aneurysm on August 9 — a little more than a month after her first on July 7.
Beth was an Electrician Apprentice working for Elcor Electric via the Santa Clara IBEW 332 Electrical Workers Union.
She was 29 years old.
On August 20, a group of about 50 family and friends gathered at the Half Moon Bay Jetty at an event organized by Beth's husband Luke to remember Beth at a gathering on the beach, followed by a paddle out ceremony in the ocean that was befitting of her life as a surfer.
The couple moved to Half Moon Bay three years ago because they wanted to live by the ocean, Luke said. Once they got there, they took up surfing and developed a close circle of friends.
The 31-foot travel trailer that the pair called home allowed them to spend more time experiencing life than taking care of possessions.
Surfing was only just one of many things Beth Kilpatrick was passionate about, though.
"Beth was an electrician, a surfer, a swordfighter," said Luke, who was married to Beth for seven years.
"She was a lot of things to a lot of people," he said.
In attendance were Beth's family, Luke's family, and the friends Beth had gotten to know as an avid surfer and swordfighter. Beth's mother, Nancy Escamilla Schultze; brother Rob Schultze; and Sue Escamilla, Beth's aunt and Nancy's sister had flown in from Wisconsin. Kaylene Brady, Beth's cousin, traveled to Half Moon Bay from Reno. Luke's sister Amber, mother, and father had flown in from Ontario, Canada as well.
Luke had set up a cream and purple-colored surfboard standing in the sand — Beth's surfboard. Ringed by a purple lei over the top, it signified the group's meeting point. Each person was given an identical purple lei to wear.
Purple was Beth's favorite color, Luke said.
Though Beth was not religious, the remembrance started out with a group prayer from the Rev. Julie Nelson, a pastor at St. Edward's Episcopal Church in San Jose.
Nelson, Luke's friend and colleague, read some words from the Episcopal Book of Common Prayer.
The group hung their heads in prayer.
Luke then invited friends and family to share with each other their lasting memories of Beth.
Standing in a circle, the group honored her by reflecting on who Beth Kilpatrick was and what she meant to each person in attendance.
Luke told the story of how he and Beth met — at an astronomy star-watching party. "We spent more time talking than looking in the telescope," he laughed.
"Her favorite word was 'epic,'" said San Mateo resident Rachel Luxembourg, whose words brought out appreciative laughs by many.
"She was just so engaged and passionate about living her life," Luxembourg added. "She found something good about everything."
"She never wanted to hurt anyone else's feelings or take center stage," Luke's mother said.
Fellow surfers spoke of the great joy Beth would express after catching what she told them was "the most amazing wave that any surfer had ever ridden."
Beth would come up to them afterwards in the water with a huge grin on her face, one said.
She was described as having "a contagious smile…I can still hear her laughing," the surfer said.
Beth's colleagues from the Circle of Swordfighters dojo in Half Moon Bay also spoke.
Vea Fier, a fellow swordfighter and Hayward resident, described Beth's dedication to the sport which involved a requirement to train in the rain, as well as wearing 50 pounds of armor while doing so.
"She was very resilient," Fier said.
Another colleague spoke of Beth's dedication while physically holding on to the wooden sword she made while swordfighting.
A modest display had been put together at the base of the surfboard representing who the 29-year-old was, and what she loved. Beth's hardhat represented her profession, and her sword represented her love of swordfighting. Flowers were tucked around a pair of brown hiking boots and at the front of the display. A photo of Beth taken by Luxembourg at this year's Maker Faire looked over the collection of items.
Luke and his best friend John Poore were the first to head out to the ocean with their surfboards for the paddle out.
The rest of the wetsuit-clad group followed, including Rev. Nelson and Luke's mother and sister. Though the three had never surfed before, all got on a surfboard out in ocean to participate in the paddle out with a wish to honor Beth.
For the full story go here:
http://halfmoonbay.patch.com/articles/a-paddle-out-for-beth-kilpatrick-hmb-surfer-and-swordfighter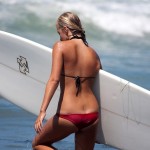 Become A Sponsor!
If you have a product or service that is a good fit for our surf community, we have opportunities for you to sponsor this blog!
Download our media kit now!