VIA – NEWS.COM AU
New York escapes the wrath of Irene
VIDEO: Hurricane Irene hits New York
"THOUSANDS of evacuees allowed back home after weakening tropical storm passes over Manhattan without causing extensive damage."
NEW York has been spared from serious damage after Tropical storm lashed the city blasting winds of up to 105 kilometres an hour and near horizontal rain.


America's largest city was shut down as the eye of the storm – downgraded from a hurricane, but still blasting winds – passed over the Big Apple overnight, as millions went without power further down the coast.
Localised flooding occurred in the south and east of Manhattan, with more serious incidents in Brooklyn, where the famed Coney Island amusement park took a battering, while outlying beaches were swamped.
At least 14 deaths have been blamed on Hurricane Irene, which slammed into North Carolina yesterday with 140 kilometre an hour winds and the National Hurricane Centre reports a new tropical storm, Jose, has formed and is approaching Bermuda.
The toll rose from eight overnight with new fatalities including a man hit by a falling tree in North Carolina, a woman in Maryland hit by a falling chimney, and a man killed by a storm-related electrical fire in Connecticut.
The youngest fatalities were a boy killed by a falling tree in his apartment in Newport News, a city on a coastal peninsula in Virginia, and a girl who died in North Carolina.
"A 15-year-old girl was killed in a car accident on her way back from the beach after vacationing in North Carolina," emergency official Patty McQuillan said.
"The traffic light at the intersection was not working, the power was out."
North Carolina emergency management spokesman Brad Deen said one of the six victims in his state was a man who had a heart attack on Friday while nailing plywood over his windows in preparation for the hurricane.
Two people were also killed in the state in separate driving accidents. Another North Carolina fatality was a man struck by a falling tree limb while outside feeding his animals.
Another storm-related death was a 55-year-old surfer who took to his board in treacherously high waves off the Florida coast on Friday.
Irene is on track to continue up the east coast on Sunday into the densely populated northeastern states of Connecticut, Rhode Island and Massachusetts.
Officials warned that flood damage from Irene's heavy rains may be felt for days, and millions of people are without power.
Damage in the billions
Irene is expected to inflict tens of billions of dollars in damage after its three-day sweep caused widespread flooding and structural damage across a vast swath of the US eastern seaboard.
"I've got to imagine the damage estimates will be in the billions of dollars if not the tens of billions of dollars," Governor Chris Christie of New Jersey said.
Experts said the financial toll would have been much higher if there was a direct hit on New York, the US financial capital and largest city with nearly 19 million people living in its metropolitan area.
Economist Peter Morici put the immediate casualty losses from the storm at $US40 billion ($38.42 billion), including the loss of two days of economic activity.
But Morici, a professor at the University of Maryland, said the impact would diminish significantly over the longer term as reconstruction spending kicks in, injecting fresh spending in recession-weakened regional economies.
"Rebuilding after Irene, especially in an economy with high unemployment and underused resources in the construction and building materials industries, will unleash at least $US20 billion ($19.21 billion) in new direct private spending-likely more as many folks rebuild larger than before, and the capital stock that emerges will prove more economically useful and productive," he said.
Another silver lining is that the storm made landfall over a weekend, mitigating the economic impact in coastal cities although dealing a direct hit to the tourist industry at the peak of the summer beach season.
LIVE UPDATES UNTIL 11.35pm
11.35pm Hurricane Irene has been downgraded to a tropical storm as it moves across New York City, the Miami-based National Hurricane Center (NHC) said today in a 11pm advisory.
The storm is producing winds of 100km/h, the NHC said.
Millions of residents up and down the US East Coast were contending with power outages as Hurricane Irene continued to wreak havoc.
At least two million people and businesses were without electricity early today, and some media estimates put the figure at closer to three million.
10.49pm The storm, moving north-northeast and packing winds of 120km/h, is forecast to engulf New York City within two hours.
Millions of residents up and down the US East Coast were contending with power outages as Hurricane Irene continues to wreak havoc.
10pm Irene has sped up and is maintaining hurricane strength as the storm's center nears New York City.
9pm New York City resembles a ghost town after 370,000 people were told to evacuate flood-prone areas, including near Wall Street and at Coney Island, and mass transport was shut down.
8.30pm The following deaths are being attributed to Hurricane Irene:
An 11-year-old boy who died when a tree crashed down on an apartment building in Newport News, Virginia;
A 15-year-old girl who reportedly died when her father's car crashed at an intersection without a working stoplight in Goldsboro, North Carolina;
A man killed by a falling branch in Nashville, North Carolina;
A resident who suffered a heart attack as he boarded up his home in Onslow County, North Carolina;
A driver who died when his car hydroplaned into a tree in Pitt County, North Carolina;
One person who died when a tree fell on a car in Brunswick County, Virginia;
A spokeswoman confirmed the death of a person in Maryland to FOX New Channel. It reportedly occurred when a tree fell on a house in Queen Anne County causing a chimney to collapse.
A surfer in Florida killed in heavy waves.
7.15pm Hurricane Irene continued to barrel its way up the US Atlantic coast towards New York City today. An advisory issued by the Miami-based National Hurricane Centre at 2am ET said that the eye of the Category 1 hurricane was about 15 miles (25km) south-southeast of Atlantic City, New Jersey, and just 115 miles (190km) south-southwest of New York City. The storm was continuing to move north-northeast at 18m/h (30km/h) with wind speeds of 75m/h (120km/h), NewsCore said.
7.08pm Two hundred beds have been placed in a gymnasium in New Brunswick 48km south-west of Manhattan for residents of the US east coast displaced by Hurricane Irene.
6.13pm Two million homes and businesses were without power early today (local time) as Hurricane Irene slammed into the East Coast and charged north, Press Association reports. Winds of up to 185km/h whipped across the Eastern Seaboard, ripping power lines from poles and snapping trees in half. Hospitals, emergency call centres and other crucial facilities were holding up, but officials said it could get much worse as Irene churns north.
For all the updates and photos, go here:
http://www.news.com.au/world/irene-roars-toward-us-east-coast/story-e6frfkyi-1226122558299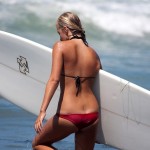 Become A Sponsor!
If you have a product or service that is a good fit for our surf community, we have opportunities for you to sponsor this blog!
Download our media kit now!