Fla. surfer, 14, has run-in with shark
Stacey Barchenger, Florida TodayShare
5 Comment
A shark bit a Florida teen surfer Monday while he was paddling back in to an Atlantic beach.
9:04AM EST November 20. 2012 – MELBOURNE BEACH, Fla. — A 14-year-old surfer was paddling in at dusk Monday when he felt something hit his foot.
Kai Rittgers saw a tannish-gray blur in the water near his surfboard.
"It was like this sharp little pain, then I kind of sat up really quick and saw it was a shark," Kai said. The boy said he shook his left foot, which left the 2- to 3-foot shark "squirming around on the board" for a few seconds.
STORY: Don't let fatal shark attack worry you
BLOG: How common are shark attacks?
Kai, his brothers and his dad, Bryce Rittgers, had been surfing off the coast of a park at the south end of this Central Florida barrier island town, but Kai was the only one left in the water at the time, considered a risk factor for a shark attack. Slightly scared by the encounter, Kai paddled toward shore as fast as he could.
The incident is at least the fifth reported shark bite off Brevard County beaches this year compared to two in 2011. Last year 75 unprovoked attacks were reported worldwide, including 11 in Florida, according to the International Shark Attack File maintained at the Florida Museum of Natural History. None of the 29 U.S. attacks last year was fatal.
Rittgers took his son to see a friend, Dawn Jockovich, who is an emergency room doctor.
She put a few bandages over the crescent-shaped line of teeth marks on Kai's heel — no stitches were necessary — and issued a prescription for an antibiotic.
Recovering at…
For the full article go here:
http://www.usatoday.com/story/news/nation/2012/11/20/florida-shark-attack/1716385/#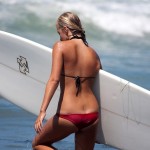 Become A Sponsor!
If you have a product or service that is a good fit for our surf community, we have opportunities for you to sponsor this blog!
Download our media kit now!