VIA – DAILY MAIL UK
By John Clarke
PUBLISHED:17:38 EST, 27 November 2012| UPDATED:17:43 EST, 27 November 2012
Brazilian surfer Gabriel Medina pulled off a flawless and rare backflip maneuver off Oahu's North Shore in Hawaii last week that quite possibly could push his sport to a whole new level.
'Today I pulled the most crazy aerial backflip of my entire life,' Medina, 18, toldSurfer Todayafter the trick. 'I still don't believe I've completed it.'
The Brazilian received inspiration from fellow surfer Flynn Novak and his trademark 'Flynnstone Flip.'
Scroll down to watch video
Ready: Gabriel Medina points his surfboard to the crest of wave, preparing to do a backflip
Set: Mr Medina launches off the wave, propelling himself into the air while holding his surfboard
Go: Mr Medina holds tight while he barrels through his backflip
Now, some in the sports world are saying Medina's move has raised the bar of the sport to new level, similar to what freestyle skier Jonny Moseley did with his infamous and controversial 'dinner roll' trick.
With that trick, an off-axle flip, Moseley lifted the difficulty of jumps performed during competition. Now, off-axle flips are standard on the slopes.
Both the surfing press and the leading champ surfer Kelly Slatetr have labelled Medina as 'the next big thing.' he's also been called 'giant killer,' 'wunderkid,' and 'the future.'

To Medina, however, he's just pleased with pulling off the trick.

'I just landed in best air of my life!!!,' he tweeted immediately after.

Landing: Mr Medina sticks a perfect landing after completing the backflip

Home: With the backflip complete, Mr Medina heads to shore
Read more: http://www.dailymail.co.uk/news/article-2239458/Pro-surfer-performs-rare-backflip.html#ixzz2DU9gDTfl
Follow us: @MailOnline on Twitter | DailyMail on Facebook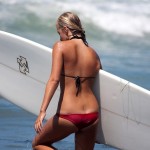 Become A Sponsor!
If you have a product or service that is a good fit for our surf community, we have opportunities for you to sponsor this blog!
Download our media kit now!