VIA – COOLUM NEWS AUSTRALIA


Abberton relishes huge Teahupoo swell
Russell Jackson | 28th August 2011
MONSTER surf terrorised those in the water and some on the shore at Teahupoo but not Australian big wave rider Koby Abberton who had a great time at the infamous Tahiti break.
The Maroubra surfer flew in especially for the waves that reached up to 30-foot, as contest organisers of the Billabong Pro were forced to put the competition on hold after the Tahitian government declared a 'code red' on the area.
Professionals on the world tour were happy to leave the giant waves to specialists like Abberton with many of the best riders in the world joining the spectator fleet in the channel.
"It was fun, there was some big waves and I saw some friends from Hawaii I haven't seen for a while, so it was good to hang out and get some really good waves," Abberton told AAP.
"They're big waves, they're massive waves, people measure them like the size of a person … and if I'm 5'10 … it probably is five times over head out there.
"I got a couple of waves in Western Australia that might be as heavy, but here is one of the heaviest waves I've had."
At one stage the swell was big enough to send tourists on the beach and surrounding area in search of higher land with equipment in danger of getting washed out to sea.
"One of the waves I had, I was going down the face the whole time and it was trying to suck me down … I was just holding on for my life really," Abberton said.
For the original post go here:
http://www.coolum-news.com.au/story/2011/08/28/abberton-relishes-massive-teahupoo-swell/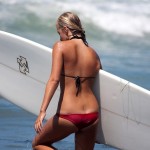 Become A Sponsor!
If you have a product or service that is a good fit for our surf community, we have opportunities for you to sponsor this blog!
Download our media kit now!