CIA – TBN WEEKLY
Irene heads toward second landfall
By SUZETTE PORTER
Article published on Sunday, Aug. 28, 2011
The Aug. 28, 3 a.m. National Hurricane Center forecast tracking map shows Hurricane Irene located 15 miles south-southeast of Ocean City, Md.

A radar image from the National Weather Service shows the eye of Hurricane Irene offshore near Ocean City, Md.
Winds up to 20 mph swayed the trees around Tampa Bay on Saturday – leftover effects of Hurricane Irene passing by. Along the Eastern Seaboard, wind gusts of 125 mph wreaked havoc.
Hurricane Irene is moving north-northeast on a journey toward a forecasted second landfall near Long Beach, N.Y. Sunday morning.
Media blasts include reports of as many as nine deaths, including a surfer in Florida. About two million people are without power Sunday morning. Floodwaters and downed trees block streets and threaten homes and businesses. Heavy surf batters the shorelines. Residents from North Carolina to Maine are feeling Irene's wrath.
Wind gusts ranged from 52 mph as far south as Cape Hatteras, N.C., to 67 mph as far north as the Philadelphia International Airport Saturday evening, according to the National Hurricane Center.
Irene's effects reached around the globe with cancellations of thousands of airline flights.
Irene was 15 miles south-southeast of Ocean City, Md., about 2 a.m. Sunday and 315 miles south-southwest of New York City. Maximum sustained winds remained at 80 mph with higher gusts. Irene was still a category 1 hurricane.
NHC forecasters said Irene should stay at hurricane strength as it moves near or over the Mid-Atlantic Coast and approaches New England on Sunday. The hurricane is expected to weaken after landfall.
Hurricane force winds are confined to an area about 125 miles to the east of the center. Tropical storm force winds of 39-73 mph spread outward up to 240 miles.
Sustained winds of 48 mph and gusts to 68 mph were reported near Newport News, Va., Sunday morning. At the same time, sustained winds of tropical storm force were still being felt as far south as Duck, N.C., with reports of sustained winds of 48 mph and gusts to 68 mph.
Irene made its first landfall near Cape Lookout, N.C. just before 8 a.m. Saturday as a Category 1 hurricane with maximum sustained winds of 85 mph. A second landfall in Long Beach, N.Y. is expected Sunday morning.
Irene fact
Irene 2011 the second hurricane by that name to affect the Carolinas and U.S. East Coast. NOAA reports that 12 years ago, in October of 1999, another Irene moved along the Eastern Seaboard, bringing heavy rains to the Carolinas and Chesapeake Bay regions. This is the sixth time Irene has been used to name a tropical cyclone. The first was in 1959 and the last was 2005.
Disaster response
President Obama declared a federal state of emergency in Connecticut, New Hampshire, New Jersey, New York, North Carolina, Massachusetts, Virginia, Maryland and Rhode Island – making additional federal resources available, if needed.
Disaster relief teams from federal and mutual-aid states are rolling in to assist. Private organizations are mobilizing their forces. Thousands are on the way to help restore power and remove trees.
The American Red Cross opened shelters ahead of the storm. People can find open Red Cross shelters by viewing an interactive Google map at www.redcross.org. The organization is moving in to help provide food and support after the hurricane passes.
Seven Salvation Army mobile canteens (kitchens on wheels) from Florida and a satellite communications truck from Tampa traveled to North Carolina Saturday. The group includes members of the St. Petersburg Salvation Army. The Salvation Army of Florida field kitchen – capable of feeding up to 20,000 meals a day – is also on stand-by.
How to help
Donations can be made at www.salvationarmyusa.org or call 1-800-SAL-ARMY (1-800-725-2769). Donors may also contribute $10 via their phone bill by text messaging the word "Storm" to 80888, and confirming the donation with the word, "Yes." Checks may be made out to The Salvation Army Disaster Relief, PO BOX 1959 Atlanta, GA 30301. Designate "2011 Hurricane Season" on all checks.
People can donate to the Red Cross Disaster Relief by visiting www.redcross.org, calling 1-800-RED CROSS, texting the word REDCROSS to 90999 to make a $10 donation.
Local conditions
Winds are expected to calm around Tampa Bay on Sunday. Officials warn of dangerously high heat indexes. A heat advisory is in effect for Hillsborough County, including the city of Tampa. People are advised to curtail outdoor activities during the heat of the day.
August 2011 is on track to be one of the hottest on record. Nighttime temperatures in the Tampa-St. Petersburg area could set a record for fewest below 80 degrees since record keeping began.
Experts predict busy hurricane season
The National Oceanic and Atmospheric Administration predicts 14 to 19 named storms could form with seven to 10 becoming hurricanes and three to five strengthening into major hurricanes, Category 3, 4 or 5.
Dr. William Gray, professor emeritus at the Colorado State University, and Dr. Phil Klotzbach, CSU research scientist, say residents living in coastal areas should prepare for 16 named storms, nine hurricanes and as many as five major hurricanes.
For the full report go here:
http://www.tbnweekly.com/content_articles/082811_fpg-01.txt
For more articles on Hurricane Irene, go here:
http://surftweeters.com/?s=hurricane+irene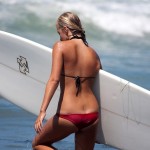 Become A Sponsor!
If you have a product or service that is a good fit for our surf community, we have opportunities for you to sponsor this blog!
Download our media kit now!