I have really mixed feelings about this…


VIA – DEADLINE
Surf's Up For Jonny Weston, Who Lands Lead In 'Mavericks'
By MIKE FLEMING | Friday August 12, 2011 @ 8:43pm EDT
XCLUSIVE: While Gerard Butler was announced as the big name in the Curtis Hanson-directed surf movie Mavericks, the lead role all the young actors chased is Jay Moriarty, the teenage big wave rider who successfully rode Mavericks. That is a body of water in Northern California that became popular with daredevil surfers who braved the structure and rocks to ride waves the size of five-story buildings. Twenty-two year-old Jonny Weston has been offered and is in negotiations for the lead role of Moriarty in the Walden Media-backed film.


Kario Salem and Brandon Hooper wrote the script and Hooper is producing with Jim Meenaghan. Butler plays Rick "Frosty" Hesson, the mentor who trained Moriarty to ride the Mavericks when the surfer was just 16. Though Moriarity survived those impossible waves, he died at 22 in a diving accident.
For the full story go here:
http://www.deadline.com/2011/08/surfs-up-for-jonny-weston-who-lands-lead-in-mavericks/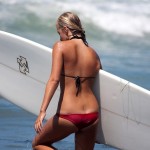 Become A Sponsor!
If you have a product or service that is a good fit for our surf community, we have opportunities for you to sponsor this blog!
Download our media kit now!