VIA – EARTH WEEK



Typhoon Muifa Storms Across Asian Coastal Waters
August 12, 2011
Powerful Typhoon Muifa brought high winds, pounding surf and torrential rainfall to many parts of far eastern China and the Korean Peninsula, causing more than 10 fatalities over the weekend.
North Korean media reports those deaths occurred as flash flooding destroyed vast tracts of crops in country still recovering from deadly flooding last month.
The storm briefly attained Category 5 force about midway between Guam and the northern Philippines during the previous week.
It then raked Japan's southern island of Okinawa with winds of over 120 mph.
China's most populous city of Shanghai was briefly threatened with hurricane force winds, but the storm steered a more easterly course than predicted and tracked into the Yellow Sea instead.
High waves churned up by Muifa near the Chinese port of Dalian threatened to breach a dike containing large tanks that held unspecified oil-based chemicals.
More than a thousand firefighters, troops and border guards battled waves up to 65 feet high as they rushed to shore up the containment wall with rocks and sand.
For the full story go here:
http://www.earthweek.com/2011/ew110812/ew110812e.html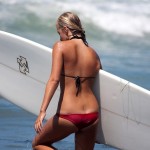 Become A Sponsor!
If you have a product or service that is a good fit for our surf community, we have opportunities for you to sponsor this blog!
Download our media kit now!