VIA – DAILY MAIL

Who's got the bigger chest? American Idol judge Steven Tyler unveils his 'moobs'
By Daily Mail Reporter
Last updated at 2:44 PM on 17th November 2011
Steven Tyler has been incredibly active on his current holiday to Hawaii, paddle-boarding, surfing and scuba-diving.
But its clear the Aerosmith frontman isn't so enamoured with lifting weights in the gym given his 'moobs' on show.
While he's in fairly good shape for 63-year-old, it appears even the rocker has succumbed to the curse of 'man breasts'.

Moobs looks like a lady: Aerosmith frontman and American Idol judge Steven Tyler appears to have succumbed to the curse of moobs, aka man boobs, as he holidays in Hawaii
Comfortable in his own skin: The ageing rocker didn't look worried by his sagging chest
But it's clear the American Idol judge isn't too fussed and carried on his holiday activities with his girlfriend Erin Brady.
After enjoying a spot of paddle-boarding, Tyler changed into a pair of green shorts and yellow T-shirt reading 'all you need is you'.

Tyler is currently on holiday with Brad and some of his Aerosmith bandmates.

Sitting down on the job: After a spot of boarding, Brady sat down for a rest
And while Tyler's age has begun to catch up with his body, his youthful girlfriend clearly spends a lot of time maintaining her fabulous figure.
The 38-year-old was spotted paddle-boarding again yesterday in a claret string bikini as she enjoyed the warm Hawaii sunshine.
Steven has been dating Erin since 2006, but have never married, or have had any children yet.
Colourful: Tyler was also spotted strolling around the beach in a bright yellow T-shirt and denim pedal pushers
He has three children from his two marriages and previous relationships, which include actress Liv Tyler, and model Mia Tyler.
The couple has had a rocky five-year relationship, and Erin has been blamed for the singer's relapse into controlled substances two years ago.
But his girlfriend is credited for convincing Steven to take up the job of American Idol judge, which has breathed new life into his career.
The former touring accountant also got to live the ultimate Aerosmith fan's dream as she hung out with Steven's chum's, including legendary guitarist Joe Perry…
For the full article and even more photos go here:
http://www.dailymail.co.uk/tvshowbiz/article-2062660/Steven-Tyler-moobs-Whos-got-bigger-chest–American-Idol-judge-Erin-Brady.html?ito=feeds-newsxml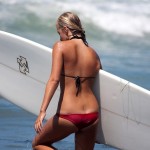 Become A Sponsor!
If you have a product or service that is a good fit for our surf community, we have opportunities for you to sponsor this blog!
Download our media kit now!