VIA – INVESTORS


Duke Kahanamoku, The Hawaiian King Of Surfing

By JOHN WINDROW, FOR INVESTOR'S BUSINESS DAILY Posted 02:40 PM ET
If one man embodies the spirit of Hawaii, it's Olympic champion, surfing icon and goodwill ambassador Duke Paoa Kahinu Mokoe Hulikohola Kahanamoku.
To the Aloha State — a place of stunning geography and warm hospitality — Kahanamoku remains a towering figure.
Baptized in the ocean off Waikiki Beach where he grew up, the man whose grandfather was a Hawaiian high chief became one the world's consummate watermen and fastest swimmers.
Besides medaling in the Olympics five times, he set world records in the 100-yard freestyle and has been credited with introducing the sport of surfing to America, Australia and New Zealand.
A stellar athlete who made friends with movie stars, Kahanamoku honored and radiated Aloha — the Hawaiian belief that generosity of spirit is a natural way of life and living.
He simply made waves, whether as Honolulu sheriff or in two dozen movies.
In honor of his legacy, the Outrigger Duke Kahanamoku Foundation helps provide $150,000 a year in scholarships to ocean athletes.
Duke (1890-1968) was born during the reign of King David Kalakaua to Julia Pa'akonia Lonokahikina Paoa and Duke Halapu Kahanamoku. He was the eldest of nine children and grew up in marshland Kalia, now home to lavish resorts and towering condos.
Kahanamoku's upbringing was guided by the warmth his mother, Julia, had for the new ways of life funneled into Hawaiian culture by white missionaries.
"She was very devout in the reformed church of Jesus Christ of Latter-day Saints, as were her children," Sandra Hall, Hawaiian historian and author of "Duke: A Great Hawaiian," told IBD.
Water Boy
His father was a policeman in the rapidly changing city of Honolulu.
The boy quickly crested in swimming, surfing, canoe racing and other watersports. That was valuable, since teaching them to the affluent from the mainland became an important business in Honolulu's rise as a tourist paradise.
Duke was an early member of the Waikiki Beachboys, who taught guests of the big hotels how to surf and canoe while becoming picture-postcard and newsreel famous.
And as he attended Kamehameha School for Boys, Duke forged his athletics into a bigger career.
In 1911 Kahanamoku and the Waikiki Beachboys founded Hui Nalu (Club of the Waves), an all-Hawaiian surf club that began besting the elite Outrigger Canoe Surfboard Club in competitions.
His prowess stood out during the first Amateur Athletic Union swimming competition held in Hawaii in 1911. Kahanamoku hit a sizzling 55.4 seconds in the 100-meter freestyle, more than four seconds faster than the world record. The Amateur Athletic Union didn't sanction his feat until years later, insisting at first that ocean currents at Waikiki Natatorium, a salt-water swimming pool in the ocean between Waikiki Beach and Diamond Head,must have helped Kahanamoku.
Then there was Duke's main event: surfing.
Local lore credits him with riding the longest wave in Waikiki history. During a giant south swell in 1917 caused by a Japan earthquake, Duke reputedly caught a wave on a 16-foot board and rode it in for more than a mile.
In a 1965 interview, Duke said if he hadn't fallen, "I would have gone right into Happy Steiner's Waikiki Tavern."
Duke represented the U.S. in the more traditional sport of swimming at the 1912 Stockholm Olympics. He struck gold in the 100- meter freestyle and helped the 800-meter freestyle team to a silver medal.
After World War I forced cancellation of the 1916 Games, Duke at age 30 solidified his swimming dominance at the 1920 Olympics in Antwerp, Belgium. He was all about the gold — in the 100-meter freestyle and 800 team freestyle.
Four years later at the Paris Olympics, he made another big splash, this time well into his 30s, with a silver in the 100-meter freestyle.
The gold went to Johnny Weissmuller, later of Tarzan fame. The bronze? Duke's brother, Sam Kahanamoku, collected it.
Duke was hardly done wearing red, white and blue at the Olympics. Three decades later he was the official U.S. representative at the 1956 Games in Melbourne, Australia.
"I have no doubts that Duke was correctly described by the United States Postal Service when they issued his commemorative stamp in 2002 as the greatest aquatic athlete the world has ever seen," said Hall.
By the 1960s, Duke was in his 70s and still all over the map. He toured widely, hosting surfing and swimming exhibitions and introducing modern surfing to California, the Eastern Seaboard, New Zealand and Australia.

Man Of Lore
To the Waikiki Beachboys, who besides teaching surfing sang for thousands of tourists in the waters off the Honolulu coast, Kahanamoku was a living legend of the Hawaiian community.
"If you ask anybody, Duke was a true kanaka maoli, a true Hawaiian with a Hawaiian heart," said Danny Kaleikini, the singer who helped spread the spirit of Aloha side by side with Duke. "He was a quiet man, but was just filled with Aloha for everyone. I enjoyed being around him very much."
Kahanamoku shone on the big screen as early as the 1920s, then hit his stride in 1948's "Wake of the Red Witch," starring that other Duke, John Wayne, and 1955's "Mister Roberts," with Henry Fonda.
Kahanamoku lived in California while working on the flicks. That proved lifesaving in 1925, when he paddled his surfboard out and helped rescue eight men after their fishing vessel capsized in heavy surf off Newport Beach.
Duke also keyed in on safety during 13 terms as Honolulu's sheriff, all the while making movies and hosting surfing events. In 1960 after his days with the Honolulu Police Department, the city deemed him its official greeter, representing the new state's culture.
President Kennedy visited Hawaii in 1962 and made sure to meet Kahanamoku.
"Kennedy was passing curtly along the line of dreary politicians," wrote Los Angeles Times columnist Jim Murray, "when he suddenly came upon Duke. A big, broad grin spread over the president's features, and the two men … had a long, lively discussion of the crawl stroke and flutter-kick pioneered by Duke."
For the full article go here:
http://news.investors.com/Article.aspx?id=592003&p=3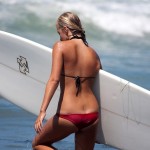 Become A Sponsor!
If you have a product or service that is a good fit for our surf community, we have opportunities for you to sponsor this blog!
Download our media kit now!