After claiming his world title, Pierre Louis Costes resigns with Rip Curl for 2 years.
The partnership between Rip Curl and Pierre Louis Costes it's a long and beautiful story. Supported since 2002 by the Australian brand, PL has been able to focus on his passion and training with only one goal: to become World Champion. Rip Curl continues its support by resigning Pierre Louis for two years.
The prize list of the young French would make grow pale more than one. 6 times French Champion under 18, 2 times French Open Champion, European Junior Champion at only 14, he was only missing to win the world title.
2011 has seen the consecration of the French body boarder Pierre Louis Costes (Hossegor, 22 years old). IBA World Champion, the first ISA World Champion (amateur), winner of multiple stages of the World Tour, Pierre Louis Costes has engraved his name in the history of international body board.
"I didn't expect this consecration to come this quick" says PL. In 2010, it didn't need much more to get on the top of the podium. It will finally be his compatriot Amaury Lavernhe… 2011 will finally be its year: Double World title (ISA and IBA), PL does not count on leaving it there.
Today, he keeps a cool head and he's bent on achieving its 2012 goals: Keep his World Champion title and win the event Pipeline (Hawaii), the ultimate reward in the career of a professional body boarder.
Congratulations Pierre Louis and good luck for your 2012 season.
Find the best moments of his 2011 season on video.
Après son titre mondial, Pierre Louis Costes resigne pour 2 ans avec Rip Curl
Le partenariat entre Rip Curl et Pierre Louis Costes est une longue et belle histoire. Soutenu depuis 2002 par la marque australienne, PL a pu se concentrer sur sa passion et son entrainement avec pour seul objectif : devenir Champion du Monde. Rip Curl continue son soutien en resignant Pierre Louis pour 2 ans.
Le palmarès du jeune français en ferait pâlir plus d'un. 6 fois Champions de France des -18 ans, 2 fois Champions de France Open, Champion d'Europe Junior à seulement 14 ans, il ne lui manquait plus que le titre mondial à décrocher.
2011 a vu la consécration du bodyboarder français Pierre Louis Costes (Hossegor, 22 ans). Champion du Monde IBA, 1er champion du Monde ISA (amateur), vainqueur de multiples étapes du tour mondial, Pierre Louis Costes a gravé son nom dans l'Histoire du bodyboard international.
« Je ne pensais pas que cette consécration arriverait si vite » nous confie PL. En 2010, il s'en était fallu de peu pour monter sur la première marche du podium. Ce sera finalement son compatriote Amaury Lavernhe… 2011 sera finalement son année. Double titre mondial (ISA et IBA), PL ne compte pas en rester là.
Aujourd'hui, il garde la tête froide et veut à tout prix atteindre ses objectifs de 2012 : garder son titre de champion du monde, et remporter l'épreuve de Pipeline (Hawaii), récompense ultime dans la carrière d'un bodyboarder professionnel.
Félicitations Pierre Louis, et bonne chance pour ta saison 2012.
Retrouvez les meilleurs moments de sa saison 2011 en vidéo.

Julie Pollet
Marketing services – Digital

Rip Curl
407, avenue de la Tuilerie
40150 Hossegor
France

Phone: +33 (0)5 58 41 78 00
Fax: +33 (0)5 58 41 78 09
Mobile: +33 (0)6 99 92 24 21





www.ripcurl.com



GO ON …… SEARCH !!
Use of the RIP CURL trademarks by Rip Curl Pty. Ltd. under license from Rip Curl International Pty. Ltd.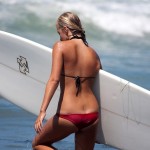 Become A Sponsor!
If you have a product or service that is a good fit for our surf community, we have opportunities for you to sponsor this blog!
Download our media kit now!